World Health Day: Promoting a Healthier Planet One City and One Story at a Time
Ning Network Spotlight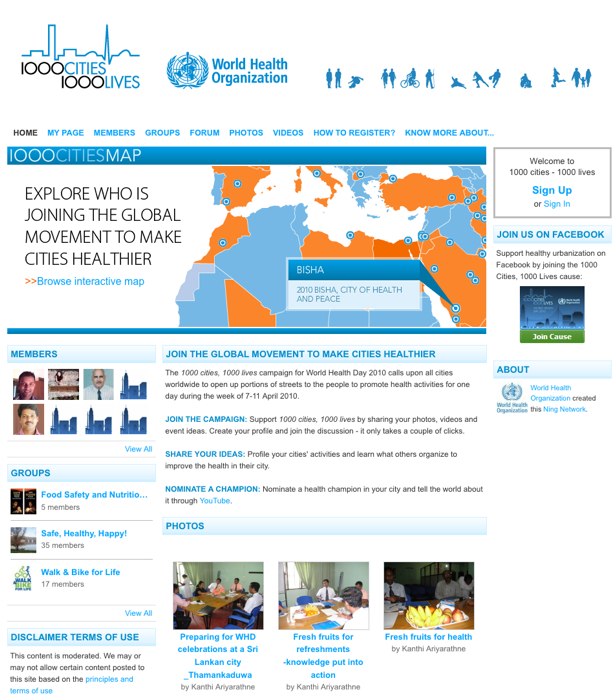 The World Health Organization (WHO) is behind the "1000 Cities, 1000 Lives" campaign, a series of worldwide events being held today through April 11. The events are focused on drawing attention to the theme of urbanization and its effect on citizens' health. As part of their promotion efforts, the WHO is embracing social media and has created a stunning Ning Network designed to bring supporters together from all over the world to have discussions and share photos, videos and event ideas.
The global goals of the campaign are:
1000 cities: to open up public spaces to health, whether it be activities in parks, town hall meetings, clean-up campaigns, or closing off portions of streets to motorized vehicles.
1000 lives: to collect 1000 stories of urban health champions who have taken action and had a significant impact on health in their cities.
Ning is the perfect platform for the campaign to allow supporters from around the globe to instantly become involved in a real way. Members are encouraged to sign in an contribute to the forum, answering the question: "What will your city be doing on World Health Day?" Member Ariane Berger posted a reply suggesting an event she experienced while living in Geneva called "Slow Up."  They closed off the streets to traffic and "everyone enjoyed being outside in the streets that you could normally not walk or bike on with all the motor traffic."
One of the most engaging features of 1000 Cities, 1000 Lives is the interactive map on the Main Page. It's hard not to get inspired when browsing through the health centered events planned for the week in cities all over the world. Some cities are getting creative, like Bangalore, India. They are  promoting Car Free Day and calling for all people to use alternate forms of transportation from midnight to noon on April 7th. Bangalore declares that there's always an alternative to driving:
If you drive car to work, consider riding a two wheeler,
if you ride a two wheeler to work consider cycling on the day!
if you cycle to work regularly, hats off to you! But then..,
you may like to jog to work and show your support?!
If none of the above work for you, consider public transport or consider working from home till afternoon!
Let's breathe some Fresh Air on this World Health Day!
The WHO is quickly on their way toward meeting their goal of registering 1,000 cities to participate in this week long celebration of health, and Banglore and Geneva are just two  examples of cities raising awareness about the health challenges associated with urbanization. With more cities creating events every day, check out what a city near you is doing for the cause!  Getting involved is as easy as  participating in a city-led event, or nominating an urban health champion.
Nic is an Associate Community Advocate at Ning and a fan of getting outside.

Let's start create health website with Ning