3 New Ways to Stop Spammers and Verify Your Members
Updates
Early next week, we'll be releasing three new tools you can use to help ensure that only legitimate members join your Ning Network. These opt-in features will help protect your Ning Network from spammers and bots, allow you to spend less time approving members and ensure that you have more time to engage your members. Soon, you'll be able to utilize:
A sign-up quiz, which new members must correctly answer to join
Email verification for all new sign ups
Increased CAPTCHA enforcement for new sign ups
Ensuring that unwanted members aren't able to join your Ning Network has been a major focus of ours over the past few months. We've released new back-end systems to detect spammers, launched a CAPTCHA for new member posts, made specific links on your Ning Network no-follow and added soft-blocking. Our goal with these new features give you more control over who can join your Ning Network, and what they'll need to to to join. As we talked about in our announcement post from earlier this week, this is the first release in a series of releases that will help give you more control over the experience on your Ning Network, through member controls, opt-in features and more.
Sign-up Quiz
When we release these new verification features, you'll see a new icon near the top of your Manage page, called "Member Controls." On this page you'll be able to turn on email verification, require CAPTCHA for all new members (this will only affect new members to your Ning Network who already have Ning IDs) and add a unique question that new members must answer — and answer correctly — in order to join.
This is what the page will look like: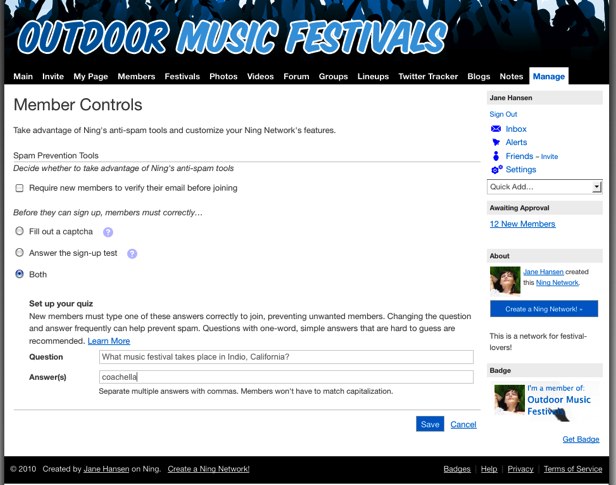 Adding a quiz to your Ning Network's sign-up makes it difficult for a spammer (or potential spammer) to join. Why? Because they'd need to take the time to research the answer your question correctly — and that's the opposite of what they want to do!
When you set up a quiz as part of your sign-up process, you'll want to pick a question that every potential member of your Ning Network would know the answer to. If you run a classroom Ning Network, your question could have to do with something you are studying. If your Ning Network is based around an association or group, you could email out a code to the group — and they'd need to enter the code to join. On a music Ning Network, your question could have to do with a band member or album name. It's best to think of a question with a one or two word answer.
Let's say, for example, I run The Twilight Saga and I want to make sure that every person who joins my Ning Network is a true Twilight fan and not a spammer or troll. I would want to add a question that every new member should know the answer to, like "What is the name of the second Twilight novel?" Capitalization doesn't matter, so members can answer "New Moon" or "new moon" and either would be enough to prove that they're a real person who loves Twilight. If I try to sign up with an incorrect answer (like "n/a," a favorite of spammers) I'll get an error message that looks like this: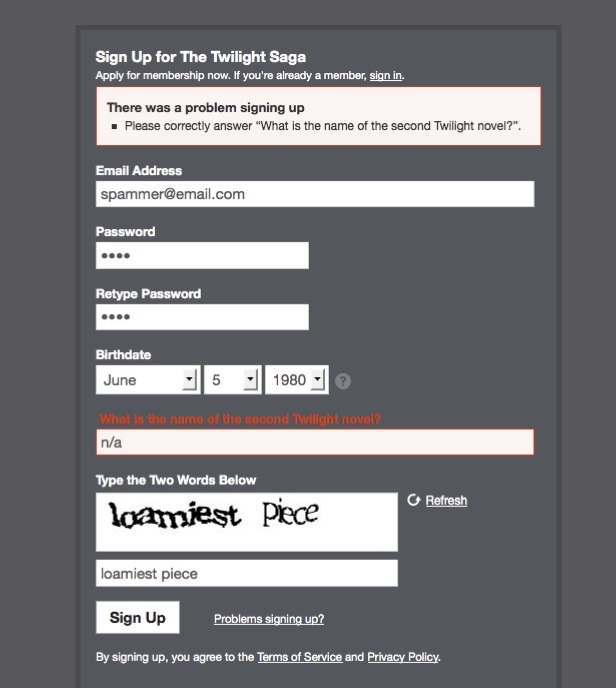 Members who are unable to answer your sign-up quiz will be unable to complete signing up for your Ning Network. For both Ning Networks with member approval turned on and those without it, this should be a big help in ensuring only legitimate members are able to join.
CAPTCHA Enforcement
Today, almost everyone who joins your Ning Network must fill out a CAPTCHA correctly to sign up. Why just "almost everyone"? Because if the member has a Ning ID already, they don't need to fill in the CAPTCHA on the sign-up page.
With this release, all new members will need to fill out a CAPTCHA, which will mean many more CAPTCHAs for spammers to fill out when if they attempt to join multiple Ning Networks. However, if you find that your Sign-Up Quiz is working well, you can now turn off your CAPTCHA completely on the Member Controls page.
Email Verification
Many Network Creators remember that we enabled email verification in late 2009. However, there were concerns from some Network Creators that their members weren't receiving their verification emails, and couldn't sign up.
After making improvements to improve the percentage of verification emails that are delivered, we've moved this feature into each Ning Network, and made it opt in. If you want all of your members to verify their email addresses before joining, enable this feature on the Member Controls page and you'll be set.