A Criminally Good Ning Network of Readers and Writers
Ning Network Spotlight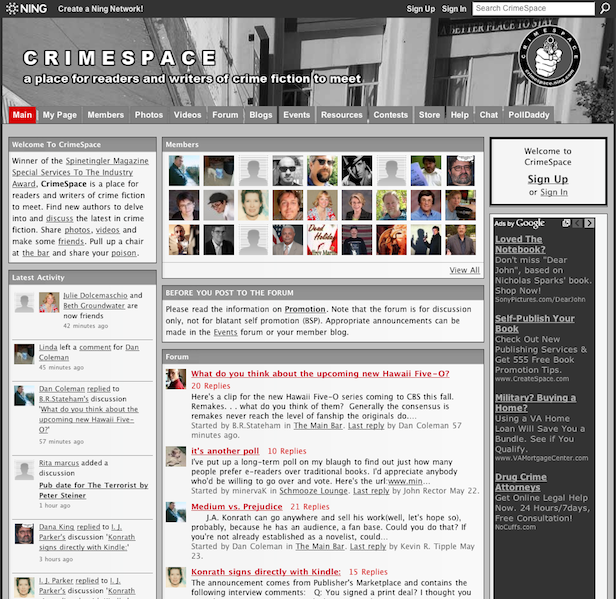 If you enjoy reading, writing, watching, or simply discussing crime fiction, then CrimeSpace is a Ning Network you'll want to focus your magnifying glass on. Over 2,800 members gather here to share their passion for the crime fiction genre.
CrimeSpace is teeming with content. As you might expect, it's got a lively section where you can discuss your latest read, but there's really something for everyone on this network, including a bookstore where you can find the latest crime novels from your favorite authors.
The level of discourse and participation on CrimeSpace is impressive. Recent discussions have centered around everything from e-books vs. pulp fiction to taking the temperature of the community on the upcoming Hawaii Five-O TV series remake.
Perhaps most impressive of all is the amount of blogging that goes on. As of today, there are 8,665 blog posts on CrimeSpace. That's over three blog posts per member! The posts can be quite good and full of variety, from helpful writing tips to thoughtful stories that aren't always about murder and mayhem. ( Mom Replaced by Free Download.)
All of this participation and sharing of great content provides the perfect motive for the crime fiction fan to get involved.