Content archive tool coming soon [Update: Now Live]
Updates
Update: This release is now live.
Since the launch of the Ning platform, Network Creators have asked us to create a way for them to download personal copies of the data on their Ning Networks, usually for back-up purposes.
Until now, providing that has been a difficult process. While you can download a basic list of your members, email addresses and profile information, there isn't currently a way to download a backup of your content or a more comprehensive list of your members. For Network Creators who are leaving the platform, we've traditionally provided an archive file, but it's a manual process that involves faxing a signed form to Ning and requires a Ning engineer to produce the file.
That's all about to change. We'll be releasing a tool — later this week, hopefully — that makes it easy to download an archive of your Ning Network's members and content.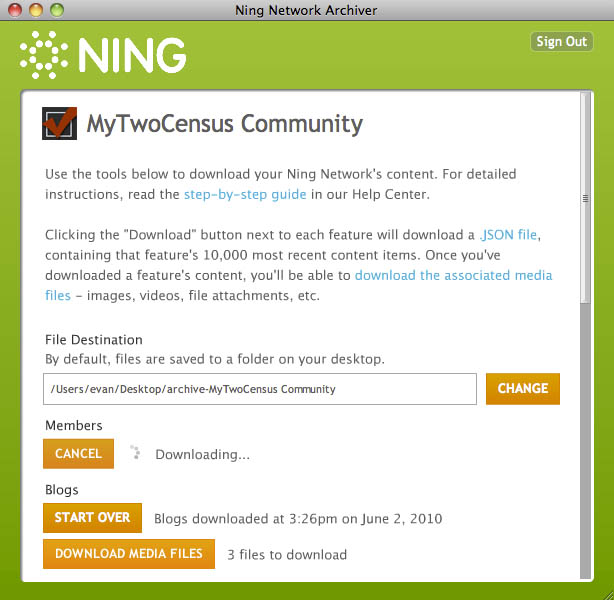 Downloading the content and members for an entire Ning Network is not an easy process. To make it as easy as possible, we've built an application that you can download and run on your desktop.
The application is built using the Adobe Air platform, meaning that it should work just the same on Windows, Mac or Linux. You'll need to install Adobe Air on your computer, but that's a quick process. More than 100 million people have already installed Air.
When the Ning Network Archiver goes live, you'll see a new "Archive Content" icon on your Manage page (in the "And More…" section). Clicking on the icon will take you to the new Archive Content Manage page, where we'll provide an overview of the application, as well as installation instructions. Once you've installed the application, you simply need to enter your Network Creator credentials and network URL to kick off the download process.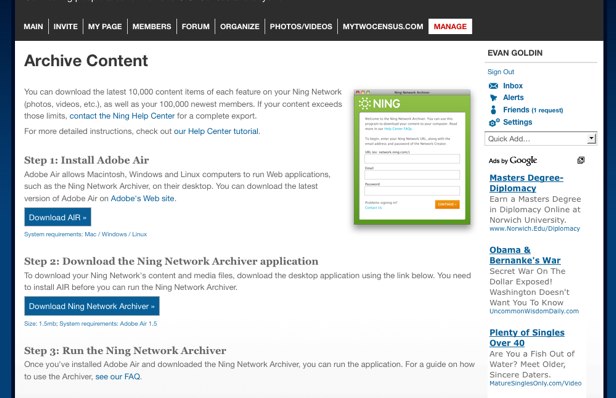 For more information, check out the FAQs in our Help Center.