Soccer fans on Ning getting geared up for World Cup kickoff
Ning Network Spotlight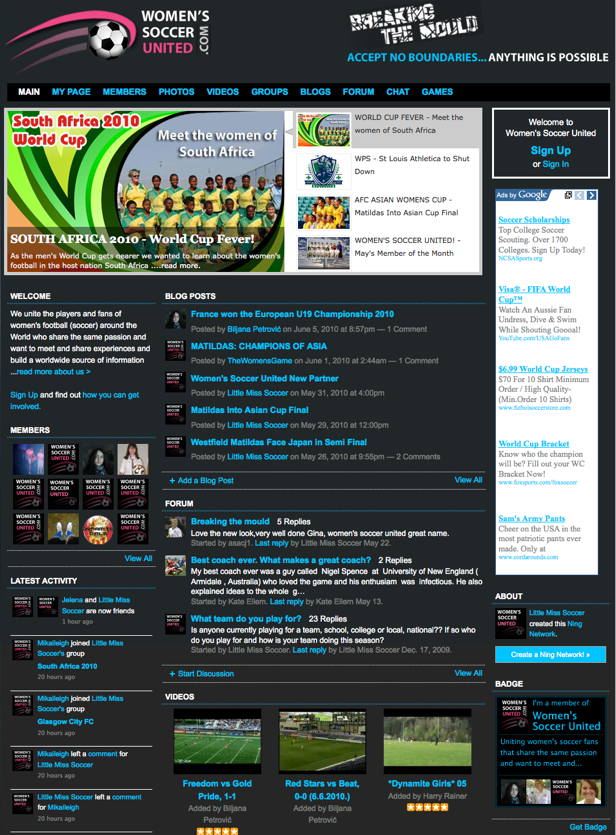 The first whistle blows for the FIFA World Cup only once every four years, but Ning Networks keep their passion for soccer alive year-round. When the 32 teams from all over the globe converge in South Africa this week, people of all races, religions and genders will rally together around their favorite sport.
While the FIFA Women's World Cup is set to take place in 2011, members of Women's Soccer United celebrate female players and fans of the sport every day. They regularly blog about important events, players and teams in the world of women's soccer, and they even use the Forum on their Ning Network to share news about the teams they're currently playing for.
This week, their Ning Network is featuring a timely Group that's dedicated to getting to know the women's team of the World Cup's host country.  The South Africa 2010 Group, has information on the club itself and a powerful glimpse into how important soccer has become in the lives of South African women.
Even after the World Cup draws to a close next month, Ning Networks will continue to bring soccer fans together. There are a lot of them on Ning! You can keep track of your favorite clubs, from large ones like FC Barcelona, to U.S. pro teams like the Houston Dynamo all the way down to fans of small teams like the Tampa Bay Rowdies. You can even find your next pickup game on Spoccer, the pickup soccer community.
From casual World Cup watchers to the most passionate of soccer devotees, Ning Networks have something for just about every kind of fan.