Coming soon: You control spam suspensions on your network
Updates
Update: This is now live.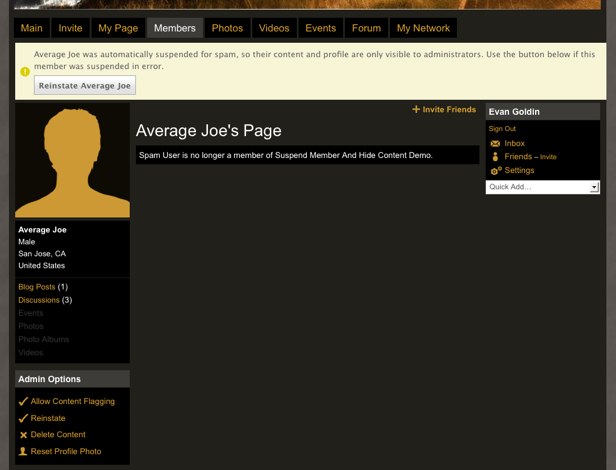 One of Ning's primary goals in the past year has been ensuring that your Ning Networks are as spam-free as possible.
As part of this effort, we introduced some new spam-fighting features for Creators, and we built a behind-the-scenes system to automatically disable the accounts of members who we suspected of posting spam or posting too often. The system has achieved its goal. We've disabled hundreds of thousands of genuinely harmful spam accounts on the Ning platform.
This push to reduce spam hasn't been without side effects, though. In the search to weed out spammers, ordinary members or administrators have occasionally been flagged and had their accounts disabled. Making matters worse, because Ning disabled their account across the Ning platform, Network Creators could not see who had been disabled or restore their privileges.
That's about to change.
New Spam Suspension Controls For Network Creators
Next week, we're releasing a set of changes aimed at giving you visibility into — and control over — how our spam prevention system works on your Ning Network.
Instead of disabling an email address Ning-wide, when members are suspected of being spammers by Ning's system, their content will be made visible only to administrators, and they will be suspended from your Ning Network. Additionally, a note will appear next to their name on the Suspended Members page, explaining the reason they were suspended. On the Suspended Members page, you'll be able to reinstate any members who may have been suspended in error.
If you visit the profile page of a person who was suspended as a suspected spammer, you'll see a special warning message explaining the suspension, and you'll be offered the option to reinstate the member (shown above) right from their profile page.
Any members who are reinstated will be protected from future spam prevention, meaning they will never again be automatically suspended for spam, as an administrator has indicated that they are a trusted member of the Ning Network.
Most important, if you still don't want Ning automatically suspending spammers on your Ning Network, you can turn automatic suspensions off completely. Just head to the Members-Controls page under "My Network" and uncheck "Automatically suspend suspected spammers."
This feature will be available to Ning Mini, Ning Plus and Ning Pro.