Introducing the New Dashboard: Window into Activity, Information and Statistics
Updates
With yesterday's launch of the Ning Mini, Plus, and Pro plans, we rolled out a brand-new experience for Network Creators. You'll notice it as soon as you sign in. We've replaced the old Manage page with a Dashboard, which offers a dynamic snapshot of your Ning Network.
You can access the Dashboard by clicking the "My Network" link in your navigation. All of the tools from the old Manage page are now neatly organized on the left-hand side of the Dashboard. While your members will continue to land on the Main Page when they sign in, you and your Admins will go straight to the Dashboard.
 This is a big first step toward providing you with valuable information and statistics that will make managing your Ning Network a lot easier.
Network Creators who are familiar with the old Manage pages know that it was limited in a few ways. First, its organization could appear arbitrary, and trying to find the right icon for taking certain actions could be a hassle if you weren't already familiar with how it was organized. Second, it was a static page that didn't surface new or interesting information.
 What follows is a quick introduction into some of the key elements of this new experience:
Members Section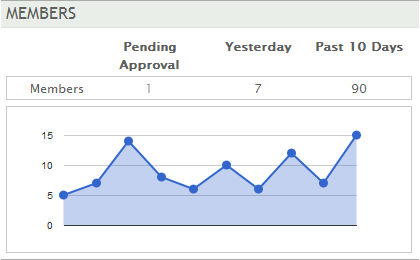 The Members section gives you a snapshot of information about members who have recently joined your Ning Network. It includes a table which shows members awaiting approval and members who have joined in the past 10 days. 
Clicking the number under the "Pending Approval" column will take you to the Member Moderation page.
Content Section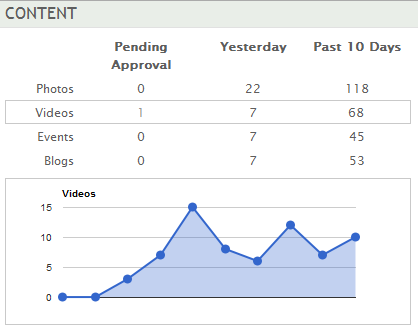 Similar to the Members section, the Content section provides you with a snapshot of information about the content on your Ning Network. The table shows content pending approval and content added in the last 10 days. All of this is broken down by content type — there's a unique row for Photos, Videos, Blogs, Events, Forum discussions, and Groups. For quick moderation for each content type, click on the number in the "Pending Approval" column. This will take you to the Content Moderation page for that content type. One big improvement we've made to content moderation page is that you can now switch between different types of content all on the same page. For example, click the "Events" tab to moderate events, and then switch over to the "Videos" tab to moderate videos — without leaving the page.
Underneath the Content Section table, a chart shows day-by-day contributions from your members. Hover over a particular content row in the table, and you'll see the relevant information in the chart below.
What's Popular: Members & Content
The What's Popular section surfaces information about who and what is popular on your Ning Network. You'll see the most popular members, as well as the top content from the features you've added. It's easy to promote or share what appears in this section — just hover over any piece of content, and you'll see a tooltip that lets you feature, comment, or share it. Currently, popularity measures are the same as those found in individual features. We'll continue to refine the way we measure popularity as part of the leaderboards and engagement work Diego mentioned in his Product Roadmap.
Ning Announcements & Message Board
The Dashboard is also the place to get the latest news from Ning, as well as tips specific to your Ning Network. Under Ning Announcements, you'll find messages from the Ning Team about upcoming features, company updates, and other communications. The Message Board section shows communication specific to your Ning Network, for example: It will recommend features you haven't added yet but that are available on your plan and may be helpful.
Navigation Improvements
Along with all this, we've improved the overall navigation so you can easily find relevant settings and options for your Ning Network. You'll now see navigation links on the left side of the Dashboard and all other My Network pages. This left-hand navigation makes it easier for you to navigate from one page to another. It's organized into Members, Content, Settings, Tools, Support, and Subscription sections, and each of these has its own sub-section.
Share your feedback!
For veteran Network Creators, we recognize that this will be a new experience, and it might take some time to grow on you. We have made these changes so it is easier for you to manage your Ning Network as features are added and allow you to gain more insight into what's happening "right now." For new Network Creators, welcome to the new experience! Please note that if your Ning Network is brand new, your charts and What's Popular section won't populate without content or activity. As you actively add members and content, you will notice these sections populating automatically.
We'd love to hear more about your experience with the Dashboard and My Network pages. Please let us know on Creators if you have any questions or thoughts.