Making Billing Easier for Network Creators
Updates
It's Day 3 since the launch, and Network Creators who have selected a Ning Mini, Plus, or Pro plan will notice several billing enhancements we've made. Here is a quick overview of these new features:
Annual Billing
We now offer annual billing so you can pay once and not worry about invoices and payments for the rest of the year. Besides the convenience, annual billing also comes with a hefty discount that's equivalent to 2 or more months of free services, depending on the plan selected.
One Bill per Month
Network Creators with multiple premium services may remember how invoices were handled—each service was on its own billing cycle, so a NC with 5 premium services may get charged on 5 different days during the month. We have now added the capability to prorate and align all subscriptions and consolidate charges into one bill per month. This will simplify the expense reporting process for many NCs.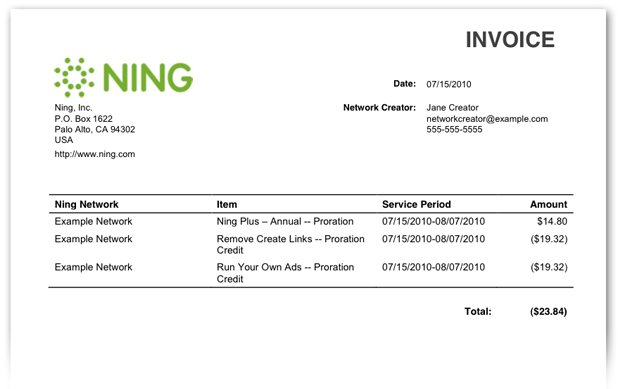 PDF Invoice
A PDF invoice will be delivered through e-mail on the billing day or when you purchase new services. For each line item, the service period is specified so you know what service period you are paying for and how proration is calculated if applicable.
Manage Your Payment Method
Card expired, or just want to pay with a different card? You can edit your payment method at any time, and we'll use the card of your choice (or PayPal) in the next billing cycle.