WEGO Health to provide Ning Plus for free to health networks
General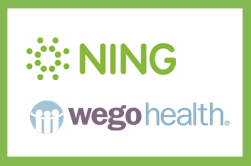 As we've highlighted on the Ning Blog before, Ning Networks have proven an excellent way to build and foster communities around health topics that are important to you. Passionate leaders have rallied around such topics as diabetes, autism, and numerous other causes to provide support, information and resources through their Ning Networks.
Today, we're excited to announce that WEGO Health will be sponsoring free Ning Plus Plans for qualifying Health oriented Ning Networks around the world. WEGO Health is the home of Health Activists, who are passionate leaders in health communities across the web, and they already leverage their own Ning Network as a core part of this mission. This sponsorship will enable all health networks, large and small, to continue their work uninterrupted. Ning Plus includes unlimited membership, full branding control, and the ability to create groups, chats and events.
Which Ning Networks qualify for this sponsorship? Existing networks that are:
• Primarily focused on health issues and topics
• Had blog or forum discussions posts in the last 30 days
• Have more than 3 members
Ning Networks created primarily to conduct e-commerce do not qualify.
The WEGO Health sponsorship is an "opt-in" program. Here's how to join:
1. Visit the WEGO Health sign up page and complete the registration form
2. WEGO Health and Ning will review your Ning Network and confirm your participation in the program. Once accepted, you'll be notified and your network will automatically transition to a free WEGO Health-sponsored Ning Plus plan*
* WEGO Health-sponsored Ning Plus plans will include subtle WEGO Health branding on the network as part of participation. For more information visit the WEGO Health sign up page.
Let's start create health website with Ning