More Violins in Schools: A Ning Network Sounds a Call to Action
Ning Network Spotlight
The Quincy Jones Musiq Consortium is a network of musicians, music educators, and citizens who are striving to revive music education in schools. Started in Boston and sponsored by Quincy Jones, the QJMC starts things off with a clearly stated mission: "To make music an ongoing part of the lives of children in the United States." That was the first thing to draw me in, because it was something I can understand and relate to.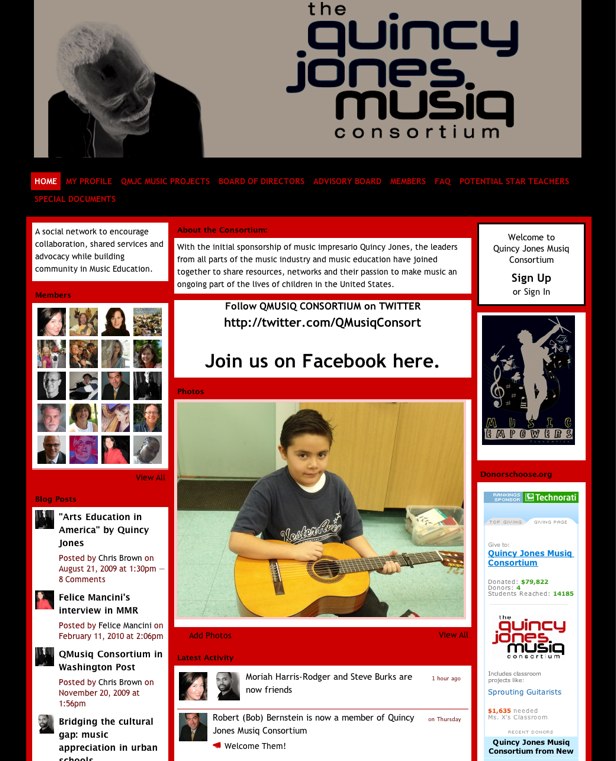 The Photos and Video posts bring the issue to life: Here are the kids — young and old — who have benefited from a musically rich education. Particularly endearing is Kathleen Orellena, an elementary school student from International Community School in Oakland, California. She took a moment to speak with the NBC News team about having the opportunity to learn music through the newly established MusicianCorps. (Fun fact: created by the same guy who created Americorps!):
"I feel good because I'm learning music I never learned… My favorite part is when we play the coquihalla de buro and a guitar made in, uh, Quito, and, um, I really like it."
There is a strong focus throughout the Quincy Jones Musiq Consortium on inspiring people, as Tabs like "Potential Star Teachers" illustrate. Even Quincy Jones jumps in with a Blog post about his experiences as a youth and why music education is so important to him. At one point he notes, "You have to know where you come from to get to where you're going." All members are invited to share via the Notes feature, and they do.
For the action part, the Quincy Jones Musiq Consortium has linked itself with as many like-minded parties as possible. From Boston to L.A., this network is reaching out to everyone for support. If you're from Boston, New York, L.A. or New Orleans, you can even join a Group for your area. Lastly, for those who want to make a financial contribution, the QJMC folks have attached a number of donor organizations to choose from.
It's all here. By using the tools available on the Ning platform in all the right ways, the Quincy Jones Musiq Consortium is destined to succeed.