Just one more thing…
Updates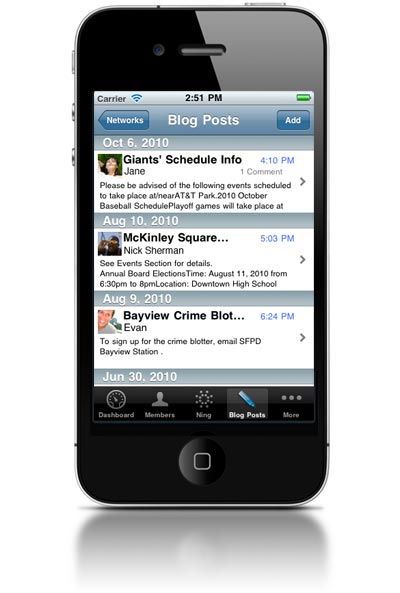 We've been rapidly developing new features here at Ning (there's plenty more to come), but in this latest round of announcements, we wanted to add one more…
It's now even easier for Network Creators to manage and monitor their Ning Networks on the go. We're excited to announce that a Ning iPhone app for Network Creators is now available in the Apple iTunes Store.
This app makes it possible for Network Creators with iPhones, iPads or iPod Touches to access their Plus and Pro Ning Networks. Once you've installed the app and signed in, you'll be able to:
Monitor your Ning Network's daily statistics
View, approve, delete or add Blog posts
View, approve, delete or add Photos
View your members' Profiles
Approve, reject or suspend members
Add comments to a Blog post or a profile
Send a Broadcast Message
Stay up-to-date on the latest Ning news
Best of all, this app is free in the iTunes store. You can download it here today. If you have feedback about the app, please let us know on the Creators Ning Network. We hope to continue adding features and functionality to the app, and expand to other mobile platforms as well (such as Android).
The Ning iPhone app is part of our Ning Everywhere effort, which allows Network Creators to customize, integrate and make their social Web sites accessible on any device or service. While this new iPhone app is for Network Creators to manage their Ning Networks, thanks to the new Ning API, Ning Pro networks can bring a better mobile experience to their members. Check out our Ning Everywhere page for more information about the possibilities opened by the API.