New Feature for Ning Plus & Pro: Dedicated Test Networks
Updates
Today, we're excited to launch our new Test Network feature, which provides a sandbox environment for Ning Plus and Pro members to try out changes before making them live on their network.
In the past, Network Creators would often create separate networks to try out new themes, test out Ning Apps, or see how a particular piece of code would work before making it live. With the launch of this feature, NCs with Ning Plus and Ning Pro networks can now conveniently create a test network with the same settings as their live Ning Network.
You can get started right now by going to My Network and choosing Test Network under the Tools category. The first time you visit this page, it will show you a "Create Test Network" link. Clicking this link will create your test network, which will automatically open in a new browser window. That's all you need to do to get started.
Your test network will always be private, so you will be asked to sign in. At creation time, your test network is set up with the same email address and password as your live Ning Network. If you wish, you can change the password. Once signed in, you can safely try out changes in this separate test environment. Your test network will always have a visual call out — a persistent banner at the top of your test network — so you'll always be able to quickly distinguish your live network from your test network.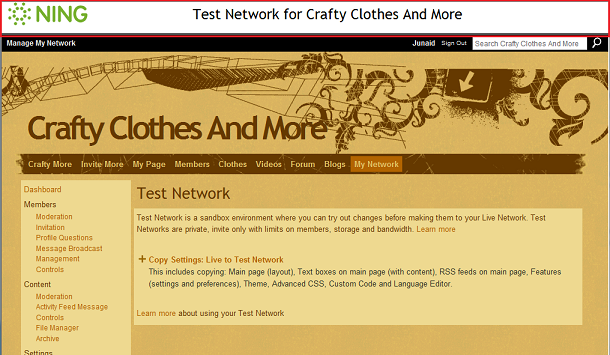 When your test network is first created, key settings from your live network will be replicated, including your Main Page layout, Text Boxes, and RSS Feeds. Also included will be Feature settings and preferences, Theme, Advanced CSS, Custom Code, Language Editor settings, and the File Manager (Ning Pro only). Note that most content, such as Blogs, Forum discussions, Photos, Videos, Events, and Groups will not be replicated. For full details on the settings, check out this Help Center article.
Want to get other people involved? You can invite up to ten members to your test network. For example, you could invite trusted Admins to provide feedback on potential changes to your live network.
If you've made a lot of changes to your test network and need to reset your test network, you can. We've added a "Copy Settings" function that allows you to easily reset your test network to reflect the current settings of your live network.
We hope this new feature will help you feel confident in exploring new ideas and choices in a safe environment!