Introducing Social Sign-In
Updates
Here at Ning, we pay close attention to customer feedback. Ning Creators consistently remind us how important it is to have complete freedom to customize their online community experience. An important request around this idea has been for a more streamlined member registration and sign-in process. After all, who has the time to create and remember yet another username and password?
In the last couple of weeks, we've had our heads down, rolling out new ways for Ning Creators to integrate and unlock the value of their communities. Today, we're taking another big step in this direction. With the launch of Social Sign-In, Ning Plus and Pro Network Creators now have the ability to enable sign up and sign in via Facebook, Google, or Yahoo!

How it works
First-time visitors no longer need to provide an email address and choose a password to sign up for a Ning Network. Instead, they can simply use an existing Facebook, Google, or Yahoo! account — and complete the registration flow in a couple of clicks. Their name and email address will be automatically populated in the sign-up form. Better yet, if they sign up with their Facebook account, their birthdate, gender, and profile photo will also be automatically filled out during the sign-up process.
Returning members will find that signing in to a Ning Network has now become incredibly simple. All it takes now is one click. Gone are the days when members would need to type in their username and password. On the Sign-Up / Sign-In box, members can also see which accounts are supported. If a signed-out member clicks on the icon of the service they initially chose to join with, they'll be signed in right away — no extra steps or clicks needed.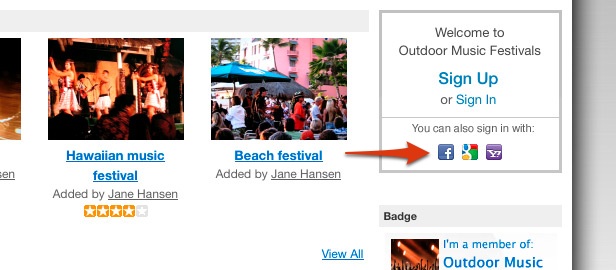 This Social Sign-In feature is powered by Janrain, the leading user management platform for the social Web.
This implementation of Social Sign-In lays the foundation for supporting additional methods of third-party authentication. Facebook, Google, and Yahoo! are the initial set of available services, and we will be adding more options in the future.