Coming in Beta: Daily Email Digests
Updates
Are some of your members tired of getting too many emails from their Ning Network? Soon, they'll have a choice.
Starting today, some Ning Networks will get to try out the newest feature on the Ning Platform: Daily Email Digests for their members. This new feature will allow members to receive emails from your Ning Network in a once-a-day digest, instead of all email notifications being sent individually as they are posted as they are today.
This feature has been in a very limited testing phase for the last few months, but it will become available to thousands of Network Creators later today. (If you've been in this initial beta round, thank you for all of your considered feedback!)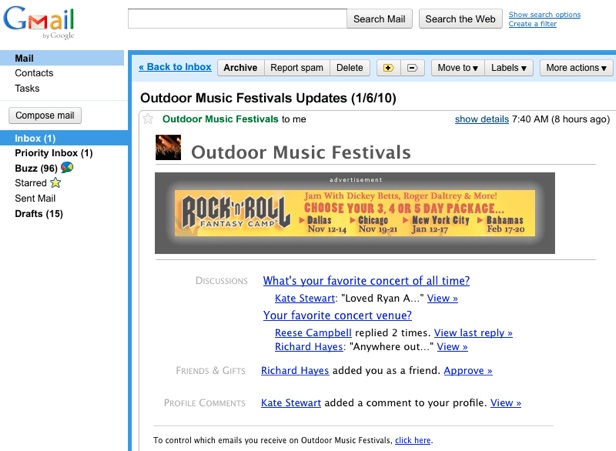 How Daily Email Digests work
If enabled, most emails that your members receive — Forum discussion notifications, friend requests, Group activity, profile comments — will be put into the Email Digest so your members can skim them at-a-glance. A few very important emails like Broadcast Messages and private messages, as well as minor emails  (like a notification that a video has been processed) will continue to be sent instantly. But the bulk of email notifications will be sent in a convenient digest format.
Daily Email Digests should both make it easier for active members to avoid a deluge of email notifications from an active Ning Network and provide Network Creators with an alternative for members who might seek to turn off all emails completely. If there's no activity in a given day for a member that day, they will not receive the digest for that day. If there is activity relevant to them on your network, they will. We think this will provide a welcome middle ground for those members who may not visit every day but who want to stay abreast of the ongoing activity.
Space for ads or updates
By Network Creator request, we've given both Network Creators and Administrators control over the header space in the daily Email Digests. On the Email Controls management page, you will find a new Text Box where you can add content that will be placed into the top of your daily Email Digests. You'll be able to add text or basic HTML, which will provide you with a smart way to rotate in and out promotions that you may want your less active members to see.
In the screenshot above, we've put this space to use with some advertising. Aside from advertising, Network Creators could use this space for:
Messages you don't want to put into a broadcast
Branding imagery or text
Calls to action (e.g., to encourage members to send invitations)
Top content of the day
Contest promotions
This will give you a lot of new options, and I encourage you to use this space as a more targeted way to reach your members. For the moment, adding content in this area is manual. In the future, we hope to make it easy to automatically include specific types of content of your choice from your network without any additional work.
How we're rolling it out — and rolling out future beta features
An important and exciting detail that will be included in this release is a new Beta Features page that we've added to your Dashboard. This will allow eager Network Creators to try out upcoming features that aren't quite ready for public launch and may need additional work.
On this Beta Features page, you'll see features that are ready for you to test. This will likely become an extensive list over time based on our desire to both expand our beta testing to more people and provide Network Creators with additional info about upcoming features. To minimize infrastructure impact and gather feedback, the Email Digest feature will initially show up on the Beta Features page for only a few thousand Ning Networks. As we do additional testing over the coming days and weeks, more and more Ning Networks will begin see it on their Beta Features pages. You may also see the option to enable a beta feature on a related administrative page. For example, for the Daily Digests feature you may see a prompt to try it out on the  Email Controls page, where it will ultimately live upon its final release.
It's an opt-in feature
Even on Ning Networks that have The Daily Digest available, this feature will be off by default. Once a Network Creator or Administrator has enabled Daily Digests, members will see a new option on their individual Email Settings page where they can switch between instant and daily emails. Email Digests will be available to Ning Plus and Ning Pro Networks, and we anticipate they will be a welcome addition for Network Creators who have asked for more options about how to message their members.
We hope to continue to improve this new Daily Digest feature based on your feedback, so let us know what you think on the Creators Network!