Ethical Fashion Forum: The Forward-Thinking Couture
Ning Network Spotlight
If you follow the fashion design world, there's a lot of talk right now about green being the new black. But when it comes to knowing what really makes a garment environmentally friendly, the definition is a little rough around the edges. What is sustainable fashion? While some might think that eco-friendly fashion just means clothing made with organic cotton or recycled yarns, there are many ways to have a green wardrobe; some simple, some more complicated. How can you build a wardrobe that's truly green?
Environmentally conscious fashionistas rejoice! Just check out Ethical Fashion Forum and see the progress that's developing in the fab and trendy eco-friendly fashion world.
The Ethical Fashion Forum is using the Ning Platform to create an industry body dedicated to a sustainable future for fashion. As a not for profit organization, EFF aims to make it easy for fashion professionals to integrate sustainability at the heart of what they do. The network promotes sustainability and knowledge through its "three programmes." Each programme includes several essential tools which members can take advantage of to succeed in an approvingly ethical way in the fashion business.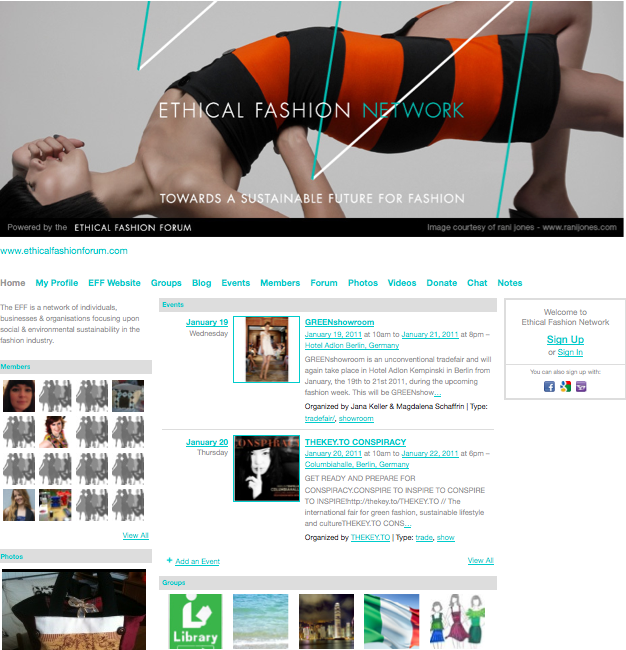 Through its three programs of "connecting, sourcing, and excellence" the EFF reaches its goals of collaboration toward a sustainable future for fashion across every industry sector while also striving to "transform the livelihoods and opportunities for thousands of vulnerable individuals and communities in the fashion industry supply chains through their source directory." The network also hosts Ethical Fashion Socials that take place all over the world, which are an opportunity to connect in person with other network members and ethical fashion pioneers. Even cooler are their seminars, master classes, online resources, and tailored networking sessions that are focused on helping businesses excel in both commercial and ethical terms. And, their members get discounted or preferential access to special events.
EFF is where sustainability meets profitability. They are an inspiring effort of network building and collaboration while refreshing perspectives, improving lives and upgrading your wardrobe!