Meet Mogwee
Ning News
Updates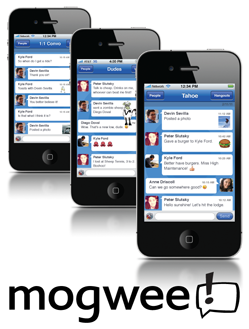 Hey everyone I wanted to share with you some big news from Ning!
Today we're launching a new mobile social communication service, called Mogwee. In January, I talked to you about the custom social revolution that is fueling our business as more and more customers come to us to create powerful, custom social websites for their group, band, cause, classroom or business. Since then we launched the Ning Design Studio, major enhancements to the Ning Engagement System, and are in beta with our next killer feature, Paid Access. We have more on the way as Jonathan shared in his recent roadmap post, and I can't wait to see Ning help even more customers bring their websites and brands into the social age.
With our roadmap defined, our business growing and the team focused on execution – I spent some time last fall working with Diego Doval, our CTO and Marc Andreesen, our Chairman, to think about the next major area for Ning to tackle. We have this awesome team, a deep bench of talent, and 5 years of experience in group and social dynamics. We also believe that over the next 3 years, the combination of mobile and social will be transformative for our industry.
Enter Mogwee – Mogwee is a new social communication service that brings together all of the things you love to do with your friends and family on your phone. From chatting live and sharing photos, to planning a night out or playing a game, with a single tap, Mogwee gives you instant access to everything that makes life fun.
With a very small team (just 2 at first) we began work on a new product – it would be both mobile and social at its core – not an adaptation of an old service for mobile. It would rethink the modes in which we communicate for the modern age – a native app with chat as the backbone, real time and asynchronous sharing, additional mobile services built right in, and some cool social actions that let you express yourself in new ways.
I've been asked a few times – how does this relate to Ning? I believe that innovation (not the word, the act) is critical to making Ning a great company, not just building one great product, but a host of amazing new products for the future. Is Apple just the iPod? Google just Search? HP just a printer? At Ning we have an amazingly talented team with a burning desire to invent new breakthrough products – and reinventing the way people communicate on their smart phones is a huge opportunity for us.
After several months of preparing we take Mogwee on its maiden voyage, launching today in Apple's App Store with versions for Android, the Web, and Mobile Web to follow shortly. Please go to the app store today and start connecting with your friends and family. I can't wait for you to give Mogwee a try!
To get updates on Mogwee be sure to "Like" us on Facebook and follow @mogweehq on Twitter.