Ning Creators Network: a case study for building a thriving online customer community
Ning News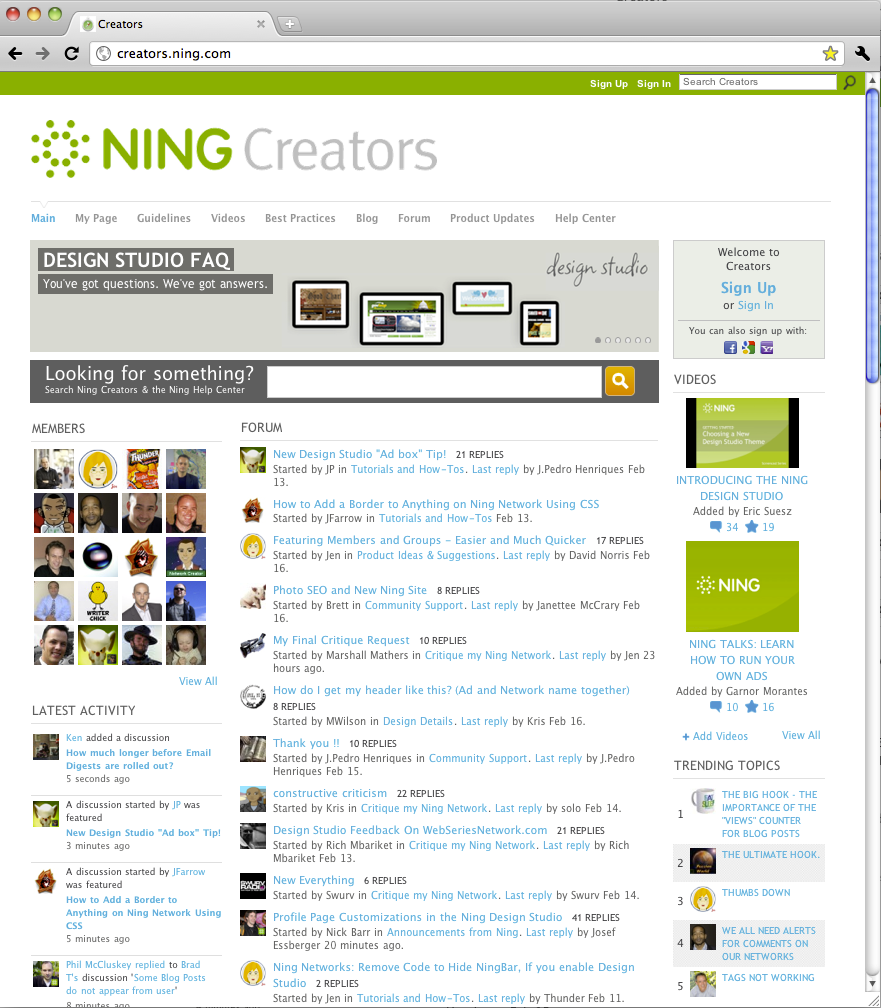 From time to time, we like to share interesting Ning Network examples — and best practices that we've learned from them — on this blog. Today, I'd like to focus on the Ning Creators Network, a community for our customers, the people who build Ning Networks. By sharing our path to getting where Ning Creators Network is today, we hope to provide inspiration for other businesses trying to build online customer communities.
NING CREATORS NETWORK TODAY
First, some quick stats about this vibrant community. At the time I write this post, Ning Creators Network has 18,867 members. Over the last year, these members have posted 12,601 discussion topics, which is the primary way members interact in the community. Members have also created 68 groups, with "Ning Networks En Espanol" being the largest and most active group at 553 members strong. Last week, members visited Ning Creators Network 27,866 times and created 367 new discussions topics. 237 new members joined.
This high member activity validates the value our customers find in participating on the Ning Creators Network. They can learn tips and tricks and best practices, ask advice, find out if others are experiencing similar issues or challenges, report problems, provide product feedback or suggestions, or simply bond with other creative, innovative people like themselves. Many of our customers spend significant time on Ning Creators Network contributing content, providing advice, and helping guide discussions. The health and vibrancy of the community is a testament to your efforts. Thank you!
Ning certainly benefits from this network in multiple ways: We've established strong relationships with many of our customers; we receive frequent, unsolicited product feedback, as well as directed feedback on upcoming and recently released features; it has taught us valuable best practices that we've formalized and published for all of our customers; it's a critical channel to communicate company plans and get instantaneous feedback; and customers even give us real-time alerts about platform issues.
KEY LEARNINGS
As many of our Ning Creators know, building a vibrant community takes careful planning, high commitment, and close collaboration with members. Our first attempt at a customer-focused Ning Network (2007 – 2009) didn't work out the way we wanted it to, so we shut it down. We hadn't achieved our goal of creating an interesting, safe, and productive place for customers to have conversations about how to build, grow, and manage Ning Networks. We learned from the experience, solicited a lot of customer feedback, and launched Ning Creators in late 2009.
Here are a few key things we did differently the second time around:
Lock in company commitment. A full-time community manager, Eric Suesz, puts his heart and soul into Ning Creators Network 24/7, and a second community manager, Garnor Morantes, backs him up. We encourage all employees to actively participate, particularly our product managers and advocates. Everyone on our exec team monitors the network on a daily basis. I often get late-night email from our CEO pointing to customer posts.
Set the right tone and culture from the start. We recruited the help of eight Ning Creator Guides and launched in private to give us time to add initial discussions and blogs that set the right constructive tone. After public launch, the Guides helped us actively moderate early participation. They were also the most prolific contributors early on. We held biweekly conference calls for the first three months to get feedback and advice from them and plan adjustments to the network.
Establish clear guidelines and consistently enforce them. We've refined our community guidelines over time. They are simple and intuitive. We message members early when they start to violate them. And we occasionally ban members if they continue this behavior.
By the customers, for the customers. Ning Creators Network is first and foremost a place for our customers to interact with and help each other. Ninety-nine percent of the discussion topics are posted by customers. Superstar customers like Jen, ThunderX, Kris, the PnL team and many others spend hours each day helping to provide advice and answer questions.
Feed a virtuous communication cycle. The more you communicate with your customers, the more they want to communicate with you. Ning Creators Network activity reached record highs over the last two weeks because we've had a lot to talk about recently: a public product roadmap, a new Known Issues page, the new Ning Design Studio, and the Like button beta (among others!). We strive to communicate frequently and program content for Ning Creators Network in multiple ways. We believe it strengthens customer satisfaction over time.
ONGOING CHALLENGES
Alas, it's not all sunshine and flowers. We continue to face challenges as Ning Creators Network grows:
How do we prevent individual customer support posts from crowding out customer-to-customer collaboration? Although we offer email support to Ning Plus and Pro customers, they often find they'll get a quicker response by posting on Ning Creators Network. A quick scan of discussion topics on the Main Page right now shows 50% are individual issues. How do we both provide responsive support and facilitate collaboration?
How do we surface valuable older content? As we continue to grow, the sheer volume of new discussions quickly pushes older threads off the Main Page and out of sight of members. Many of these buried threads include valuable, thoughtful insights.
How do we continue to make new members feel at home? With over 18,000 members and 12,000 discussion topics, it's easy for new members to feel overwhelmed and intimidated to start a new discussion or jump into an existing one.
I would love to get your feedback, ideas or advice! Share your thoughts by adding your comments below.