Ning Design Studio, coming February 9
General
Ning News
Updates
Your Ning Network
The Ning Design Studio is launching next week. Are you excited? We certainly are.
The Ning Design Studio gives you an incredibly intuitive way to customize and transform your social experience. Previously, we posted a list of what's in the Ning Design Studio on the Creators Network. To recap, here's what's in it:
Choose from 56 hot new themes at launch
See a live preview of changes as you make them
Set a 2- or 3-column layout and choose navigation and sidebar locations
Tweak 80 dials and knobs for your site appearance
Access Developer Mode, where design gurus can access the Ning CSS and create their own themes
Today we wanted to post some juicy screenshots to give you a sense of what's in store: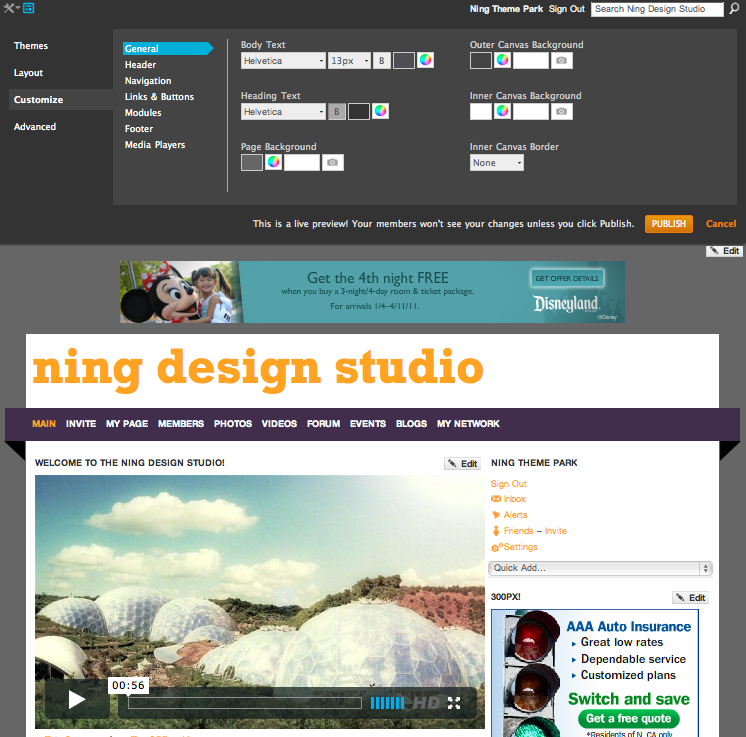 For more screenshots and information about the Ning Design Studio, check out this page.
Themes, Layouts, and more
As you can see, the Ning Design Studio slides down from your network bar and consists of 4 panels: Themes, Layouts, Customize, and Advanced. Right under the Design Studio, you get a live preview of your changes as you make them.
In the Themes panel, you can choose from 70+ themes (at launch). Click the "My Themes" section to enable any theme you've published in the past.
The Layouts panel lets you pick a 2-column or 3-column layout, and customize the placement of your site's sidebar and navigation. The increased layout flexibility also means it is easier than ever to plug in ad units in a variety of sizes. Expect even more layout options down the road.
Once you have a theme and a layout you're happy with, tweak more than 80 settings in the Customize panel. You'll see a ton of new options here, including border styling, more fonts and font sizes, and a handy image previewer.
Finally, the Advanced panel gives you the ability to add CSS, but also introduces a brand-new Developer Mode. In Developer Mode, you can dive into the Ning CSS, hack away, and create your own theme from scratch. We've put together comprehensive documentation, and we'll soon be taking submissions for people who want to add their themes to the Ning directory.
Instant Ad Boxes
In addition to the Ning Design Studio, we're introducing the Instant Ad Box feature.  Instant Ad Boxes are similar to Text Boxes but are designed to seamlessly integrate advertisements with your Ning Network. You can place Instant Ad Boxes above the header, above the canvas, or below the footer. This has been a long-requested feature, and we're pumped to release it with the Ning Design Studio. Whether you enable a new theme or not, you'll be able to use this feature.
What if my Ning Network is already perfect?
When the Ning Design Studio rolls out, your current theme and customizations won't change. In order to take advantage of the new features, including 2-column layouts and Developer Mode, you'll need to select one of the 70 new themes.
However, you can always revert back to your old theme at any time — you can find it in the "My Themes" section. And if you want to edit your old theme, you can choose to do so in the old appearance editor as well. This ensures a great experience for every Ning Creator. If you have any questions about this, take a look at our FAQ on the Creators Network.
Ready to style up your Ning Network? We will update you again once this becomes available next week.