Announcing the Ning Design Competition: Win $10,000 and a Trip to New York City
Ning News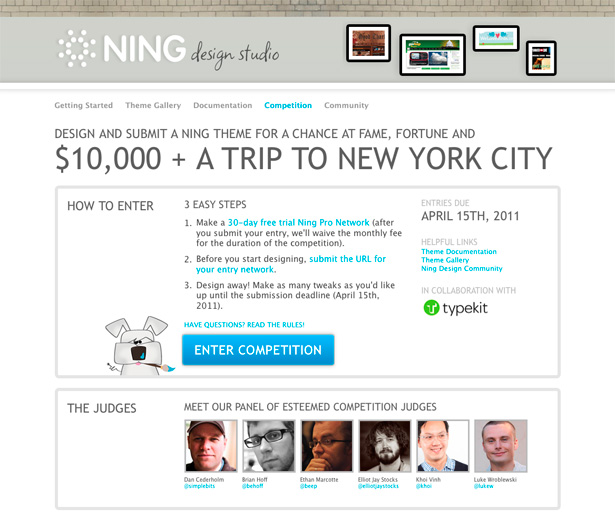 We're extremely excited to announce the launch of the Ning Design Competition! Following last month's release of the Ning Design Studio, we're using this competition to help us jumpstart submissions to our upcoming Theme Marketplace, a feature which will allow external designers to create, submit and ultimately sell a theme on Ning.
To judge the entries, we've assembled a fantastic panel of world-class designers, including:
Dan Cederholm (Dribbble and SimpleBits)
Brian Hoff (The Design Cubicle)
Ethan Marcotte (Speaker and Author of Handcrafted CSS)
Elliot Jay Stocks (Author of Sexy Web Design and 8 Faces Magazine)
Khoi Vinh (Former Design Director at The New York Times)
Luke Wroblewski (Author of Web Form Design and Former Chief Design Architect at Yahoo)
All entries will be eligible for future sale in the Theme Marketplace, with the top three winners receiving a trip to New York City for dinner with the competition judges, a one-year Ning Pro subscription, and the following additional prizes:
1st Place – $10,000
2nd Place – $1,000 + 27″ Apple Cinema Display
3rd Place – $1,000 + 27″ Apple Cinema Display
We're thrilled to have Typekit as our competition sponsor, offering a comprehensive selection of fonts for our designers to use in their entries.
The competition ends on April 15th, 2011, with winners slated to be announced on May 10th.
Also, if you're planning to attend the SXSW conference in Austin, TX this year, please join Ning and our friends at TypeKit for breakfast on March 14th, 2011 at Frank's (on 4th and Colorado). We'll be there to answer your questions about the design studio and share tips on submitting a theme.
Our Ning Design Competition site has all the information you need to get started. We look forward to seeing your entries!