Pencils of Promise: Effectively Spreading the Word Across Social Media Channels
Ning Network Spotlight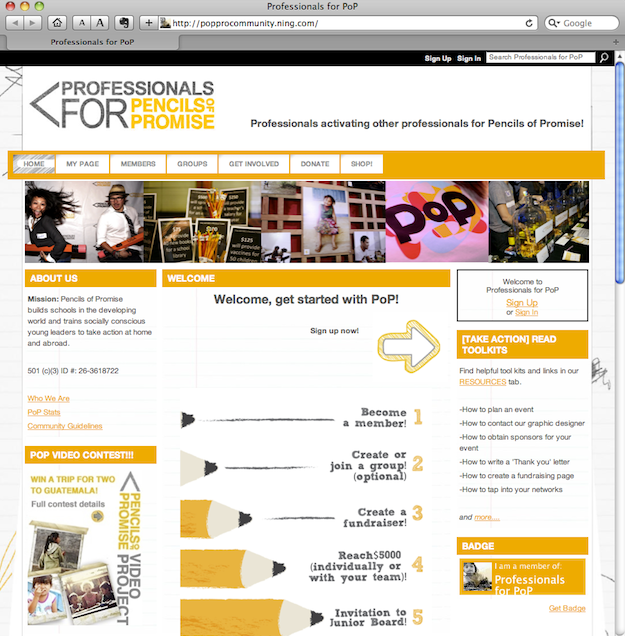 Have you heard of Pencils of Promise? They've built up a very impressive, grassroots movement to build schools in developing parts of the world. They're also training socially conscious young leaders to fan out, spread the word, and encourage people to take action at home and abroad. I sat down with one of the founders of PoP for a quick Q&A to find out how they're using their Ning site, Professionals for PoP, as well as other social-media channels to further their excellent cause.
1. Let's start with some introductions: Who are you, why did you guys start Pencils of Promise, and why did you choose Ning as the platform to build a community?
Hi, I'm Mimi. I like to say I'm the "Chief Pencil Sharpener." PoP started with Adam Braun and his habit of giving away pencils to children in developing countries when he traveled the world. He saw how powerful the promise of education could be, and after I met him I wanted to help him on this journey and make sure each pencil was sharpened and ready to use. As the founding member and Director of Outreach, my responsibilities fall in the areas of fundraising, events, donor engagement, and corporate partnerships. My passion is finding unique ways for our professionals to get involved with our mission because one of the most important principles of PoP is that regardless of age, ability, or status you can be part of something that is impactive on a lasting scale. This year, we decided to launch a community site for our professionals to interact, inspire, and encourage one another to create social good through their involvement with PoP. We noticed that many supporters wanted to do something, but they needed a bit of guidance and wanted to connect with others who felt just as enthusiastic and passionate about the cause. Creating a community was also a great way to streamline our communication with the other social media platforms we use such as Twitter and Facebook.
2. What do you hope to accomplish from your community site?
Our goal is to connect users and give them a platform to lead and inspire. We hope to reach more members who are actively supporting the PoP movement. We're trying to provide a place that doesn't take up too much of anyone's time but that also serves as a support system to help them combine their passion with PoP's mission. It also helps to see examples of what everyone else is doing.
3. How are you using the wider social internet (Facebook, Twitter, etc.) to promote your brand, and how is that tied into your Ning Network?
Anything that's happening with our professionals, we want to cross promote it on our other channels. We also use the other platforms more for announcements to link it back to the community site so we can increase membership for first timers visiting or interested in joining PoP because they read a news flash on Twitter or Facebook.
4. Tell us a little more about how the social Web has helped you build Pencils of Promise and raise finds toward your programs around the world.
Pencils of Promise "the movement" started with us leveraging Facebook and our friends, family, and co-workers to pass the word along. It was free and the easiest way for us to reach a mass group. Then, Twitter came along, which helped us to more keep people in the loop and have personal conversations with our supporters, especially young supporters. It was like free customer service! It's a great way for us to ask people to join campaigns, come to events, or volunteer with us. This connects supporters who then can maybe turn into donors. It's relationship management. We use social media to show not only what we do but who we are as a brand — it gives us personality!
5. Ideally, where would you like to see this network be 6-12 months from today? Ultimately, why is building a community around this brand so important to you?
The network should be user-driven completely! It should be creative and an example of how people from all over the world can come together for purpose. I would also like to say it's the factory that creates leaders who are global citizens caring to create more access to education!
6. Do you have any tips, ideas, or suggestions for others who are looking to leverage social technologies to help change the world?
Branding. Don't just tell people what you do and expect them to respond. You have to give them the people behind the brand — what you feel, believe in, and are passionate about. Communicate that to the people so they can connect with you, and use the social-media platform to help facilitate those connections. Be consistent and committed to your social-media profile.
7. Tell us about any exciting upcoming campaigns you're launching in the next couple of months.
Currently, we have a few activities you can get involved in: The PoP Video Contest where you can win two round-trip tickets with our PoP Team to visit our schools in Guatemala. Then, our Professionals for PoP Campaign of the Month is Plan a Happy Hour. Mid- to late-April we're launching Schools for All, where we ask our youth to join the national fundraising challenge to have a chance for Justin Bieber visit your school with Adam Braun!