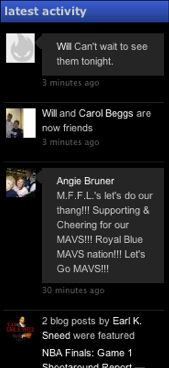 Tonight, the Dallas Mavericks face off in Game 1 of the NBA Finals against the Miami Heat. Fans on the Mav's official Ning Network, friends.mavs.com, are hopping with anticipation for this evening's game by rallying and cheering on their all-star team.
On friends.mavs.com, die-hard Mavs fans have a courtside view of their team by checking out player and owner profiles. Keeping fans abreast on team news is a slam-dunk through the constant news streams on its blog, giving fans the home court advantage by providing them the Mavs news they most care about. In turn, fans are happily jumping through hoops by voicing their excitement for the Mavs on the community and getting to know like-minded fans worldwide.
Using's Ning's API and partnership with Mobile Roadie, the Mavs offer fans a sure-shot way to stay connected anywhere using the team's mobile apps available for iOS and Android devices. If you're a fan of the Mavs, friends.mavs.com and their mobile apps are the passes you won't want to miss for tonight's game.
Watch the Mavericks play Miami Heat on ABC tonight at 6 (Pacific) / 9 PM (Eastern)!
http://www.youtube.com/watch?v=aH53MuPdyFA