Mom 2.0 Summit and Ning's place amongst "Mommy Bloggers"
People Profiles
I've attended many conferences, with major themes focusing on the music-tech community. Over the last 6 years, during the growth of social media and the expansion of community-building tools, I've observed recurring and like-minded questions asked by panelists from every background. Similar core issues arise amongst community creators and leaders. As niche intimate communities grow to bountiful online spaces where humans transcend physical boundaries and interact globally in meaningful ways, creators are asking:
What happens to the offline component? How does a community grow? What kind of space am I building? What's it all for, anyway?!
Mom 2.0 Summit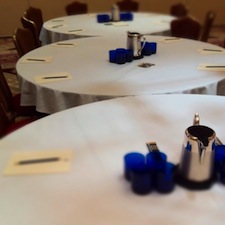 I recently attended Mom 2.0 Summit in New Orleans. Marketers, Moms and Mums covered high-level concepts; the keynote from Abigail Disney and Lois Vossen united the audience as a powerful community, empowered by tools to "heal the world where you are." As digital storytellers, the "mommy blogging" community is a powerful contingency and their energy is positively different; I knew I was in a room full of powerful and driven women, community creators, leaders and builders. They know what tools to use, and draw in amazing sponsors like Whirlpool. Not only did I want the washer/dryer on display at Mom 2.0 Summit, I knew I wasn't going to end up simply teaching these women how to craft an "@ reply" on Twitter.
The Four Questions
Among a list of amazing speakers, Laney Whitcanack and I ran a workshop, Building Community or Building Business: A Blueprint for Creating Space.
In the music space, we often discuss the union between offline communities at live music events with online music communities. Many artists are trying new things to bring content online, but the live music online/offline space has yet to be conquered. Many of the moms I met in New Orleans expressed similar disconnections within their own communities. Together, Laney and I helped community leaders discover answers to this by going through a few exercises while shying away from mentioning any specific tools. We asked four questions of community leaders:
What is the purpose of your community?
What kind of space do you want it to be and what do you want from it?
Secret Sauce: What are you doing to help participants disclose, share, and follow information?
What is the structure of the community?
In a fast hour, we drew Venn diagrams, learned about a community of teachers sharing information online, and a community focusing on bountiful friendships between Muslim and Jewish Americans. We tried to focus mostly on answering the questions without relying on the preference of one social tool over another, but it was impossible to ignore the benefits of Ning and the benefits a community creator enjoys by choosing Ning's platform. A creator might want to build a "living room" with a forum, or a "community recreation center" using Ning groups. Because they adapt so easily to growth, Ning's products enable the "secret sauce" necessary to help participants disclose, share and follow information. Ultimately the creator must make regular decisions about the environment and is empowered to grow large spaces filled with people from around the world for distinct purposes. For our workshop, we reviewed what tools are best and for what purpose, and purposely focused on growth, space, and creative communication, all of which are fully enabled by Ning. It felt great to be there, knowing that these conversations were not future tripping – we were talking about what community leaders and creators can do right now. It dawned on me during the workshop that Ning speaks the language of a worldwide web; within the right space, any community can transcend spoken word.
Offline
The gap between online and offline communities can be tough to bridge. In music, the common activity is obvious; music fans go to shows offline. But moms have many common interests, ranging from teaching to aerospace engineering. While the communities grow en mass online, at the conference there was a strong desire to unite offline, too. One way to bridge this gap is to find leaders in a community who want to take on specific regions and organize activities to drive engagement, such as posting great content from activities for the rest of the community to experience. With Ning groups and calendars, this strategy is easy to execute. In the end, the number one question that must be revisited every 12-18 months: What is the purpose of my community?
Show Mom The Money
One unanticipated and recurring question raised: How do you monetize? The growth and popularity of "mommy blogging" communities built from the heart is incredible. And the thirst for these communities is ever-present. This leads to a conundrum—time needed to manage and money to support these mom epicenters. And that's where choosing the right tool does play a role in community building decisions; this is where Ning shines. Having full control over if and where advertisements appear in online communities, or ways to incorporate guerilla advertising in an authentic way becomes incredibly powerful and attractive to advertisers and people trying to reach community members. Additionally, people are willing to pay a premium for valuable and useful content they can digitally access. Going back to the bridge between online and offline, branded merchandise and fundraising add true value to any social destination by making the online community more tangible, real. Giving a real value to your community makes it, well, priceless.
Corey Denis is VP of Digital Marketing at TAG Strategic, a digital entertainment consulting firm. She has been pioneering digital music marketing since 1999. She also founded Not Shocking, working with clients like SoundExchange, Michael Tilson Thomas, IRIS Distribution, Inu and Todd Fancey.
Let's start create a blog with Ning: https://www.ning.com/create-a-blog-2/