We're looking for an Awesome Design Intern: Is It You?
Ning News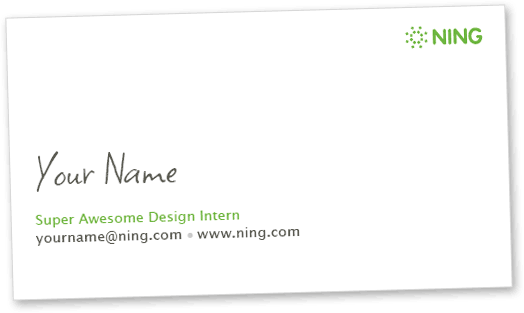 We're looking for a design intern that will help create stunning themes for the Ning Design Studio and show the world how awesome social websites should look. Your work will be on display for tens of thousands of Ning Creators and millions of users across the globe. You will also be a key part of the design team, helping develop the themes for sites like Thisis50, Linkin Park and Twilight Saga.
In addition to what you'll learn during your internship, this opportunity comes with a little something extra:
Money (this is a paid internship!)
A housing allowance during your internship
All the great perks that come with working at Ning, including free snacks and lunch every day
A chance to work with some of the best and brightest in Silicon Valley
A FREE trip to New York City to have dinner with world renowned designers including Dan Cederholm (Dribbble and SimpleBits), Brian Hoff (The Design Cubicle), Ethan Marcotte (Speaker and Author of Handcrafted CSS), Elliot Jay Stocks (Author of Sexy Web Design and 8 Faces Magazine), Khoi Vinh (Former Design Director at The New York Times), Luke Wroblewski (Author of Web Form Design and Former Chief Design Architect at Yahoo)
The stakes are high. To qualify, you need to be a visual design guru with skills in HTML / CSS and hungry for learning new technologies. It would certainly help if you have a few of the following skills in your back pocket as well:
Strong visual design skills (share a link to your portfolio, please)
Experience with production web design tools (Photoshop, Illustrator, etc)
Aspiration to make all design experiences beautiful – whether that's on the web, on paper, at an event, or in a PowerPoint presentation
Extra brownie points for illustration, typography, iconography / infographics experience
Only ONE candidate will be selected as the Awesome Design Intern. If you think you have what it takes, apply for the position now.
Good luck!