4th of July: Having an Explosive Impact
Ning Network Spotlight
As summer swings into full gear and the 4th of July fast approaches, communities across the nation are preparing to host Independence Day celebrations. From Maine to California, Americans all over are getting ready for barbecues, parades and outdoor gatherings not so different from the first July 4 celebration in 1777. In Hawaii, one community is preparing for an epic fireworks display – volunteers are raising $60,000 for the Kailua Fireworks show. Since funding for the show was cut in 2009, local businesses and community members have taken it upon themselves to raise money to keep their fireworks tradition alive. In 2010, community organizer Brook Gramann brought the fundraising effort online, and their Ning Network was born – Kailua Fireworks.
The community serves as an online hub for its explosive endeavor, highlighting pictures and videos of past displays and ways to fundraise. Members can donate to the fireworks fund or buy Kailua coupon books, read press excerpts about successful past shows, and get updates on the race to $60,000. While Kailua Fireworks focuses on the financial aspect of the show, the emotional and traditional is just as meaningful, as described on the Kailua coupon book:
"The 4th of July Fireworks in Kailua not only light up the sky and the hearts of our community, but also remind us of what it means to be an American. They give us a shimmering light of hope for a bright future. Fireworks unite families and our community under the mutual goals of being together, celebrating freedom, and seeing the night sky in all its glory."
As of July 1, Kailua Fireworks has raised over $34,000 and we're excited to track their progress over the next few days as they gear up for their big 4th of July show. If you'd like help them out, please visit Kailua Fireworks' donation page.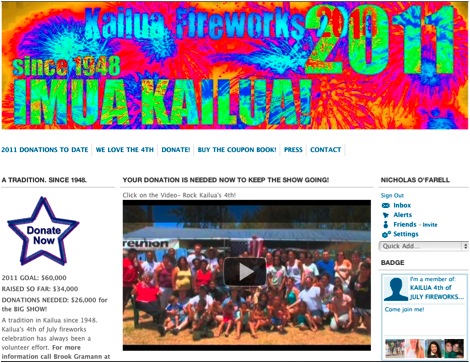 Post by Nicholas O'Farrell. Nicholas is a Marketing intern at Ning. Over the summer, he's worked on a variety of projects with us, spanning from online community building for political organizations to working with Ning's legal team and blogging for the company. A triplet and citizen of three countries, Nicholas enjoys reading, writing, traveling, skiing, and exploring new cultures and languages.

Start create political website with Ning: https://www.ning.com/create-political-website/