Building Outside The Frame: Aviary Ning Extension Allows For Integrated Photo Editing
Developer
Ning Network Spotlight
Ning News
Technology
Updates
Today, we're excited to unveil the Aviary Ning Extension, a tool that can increase member engagement and inject fun and utility into Ning social websites using photos feature.
The Big Picture
Photo sharing continues to be one of the most popular features on Ning, second only to the inbox/forum. By working closely with Aviary (www.aviary.com), a leading provider of creative web and mobile tools, we make photo sharing even more powerful and fun for your community through the Ning API.
Our priority is to provide the best social experience for Ning Creators; we're constantly pushing the innovation envelope through product development and partnerships. By strategically partnering with the best-in-class providers and services, like we've done with Aviary today, and uStream and SoundCloud earlier this year, we can roll-out new functionality even faster.
The new Aviary extension lets Ning Plus and Pro Creators and members easily edit photos directly in a Ning Network. It's easy to make useful tweaks like cropping and red-eye reduction; editing the contrast, brightness and colors; adding text to photos; and — if you're feeling creative and playful — placing "stickers" like mustaches, hats and sunglasses directly onto the images of people and objects in your photos.
As the saying goes, "A picture is worth a thousand words." Aviary's Ning Extension gives people the freedom to make these changes on the fly, meaning these creative tweaks happen directly within Ning Networks and lets you speak volumes, such as on PetBrags.com: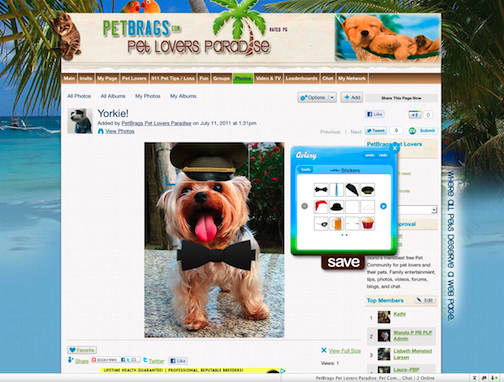 How it Works
Ning Creators and members have always been free to express themselves, and now, our partnership with Aviary opens the floodgates for letting them do so in a new, unique and fun way. Aviary's suite can be applied across Ning Networks and even integrates with making changes to member profile photos — now, it's never been easier to show off your personality!
Once Aviary is up and running, simply hover your mouse over a photo you want to edit and you'll see a "Photo Stickers & Effects" option. This will start up Aviary's editor and encourage you to apply updates, transformations and filters to your photo. Once the changes you want to make are complete, click on "Save" and the modified photo will be saved back to the Ning Network.
To activate the Aviary Ning Extension, just head to your network dashboard and visit the Ning Extensions page (under Tools). Once there, click "Activate" to turn it on. For troubleshooting visit this Ning Help Center article.