Ning in the education department: The writing's on the blackboard
General
Ning Network Spotlight
As educators and students head back to school, we wanted to highlight a few ways Ning is used in the classroom as an e-learning tool. The goal with any community is to foster and drive conversation and learning, in meaningful and engaging ways, bridging the online conversations with the real world ones happening in the classroom.
We've heard that students and teachers really like the social aspects of services like Facebook, yet want a separation from their Facebook identity when it comes to the classroom and learning. The beauty with a Ning Network is that every student (and teacher) has their own profile page, showing their Latest Activity and content posted, blogs and discussions within the Ning Network. The profile is specific to the community, separate from their online identity elsewhere and is a safe way to share within the comforts of their Ning Network. Ning Creators can add profile questions that students can answer – helping students get to know each other.
Since the layout and features used is totally customizable, posting a course syllabus or weekly assignments on the Main page, which all members see upon signing in, is an easy way to disseminate and share information with students.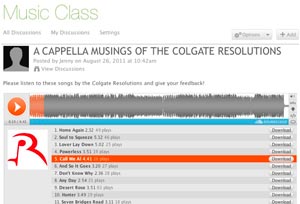 As we highlighted in the Ning POV, Forums is our most popular feature, and offers educators a great deal of flexibility in terms of how to structure the conversations for classes, lectures and sections. We've seen specific discussions based on readings or assignments, and we've seen students create their own discussion topics based on general themes and topics, allowing them to dive into threaded or chronological debates with peers, sharing various points of view, and bringing that conversation along with them into the classroom. Discussion starters and anyone responding can embed media-rich content such as YouTube videos, podcasts, music, images, and links to cited sources across the web.
We recently came across a Ning Network for art classes at Yarmouth High School in Maine. Students are using the community to upload their artwork, turn in assignments and cross-share their work with students in China. The end result is a repository of student work, open discussions, and transnational learning: