Digital empathy: 9/11 communities bringing us closer together
Ning Network Spotlight
Today marks the 10-year anniversary of September 11, 2001. We wanted to highlight 2 amazing Ning communities that have sprouted as a result of that fateful day.
In May, we first mentioned Prepare New York, a community initiative bringing together 6 different interfaith organizations. We recently spoke with the Ning Creator, Kierra Parlagreco, about what plans they had for this anniversary and how their community has brought all walks of life together through conversations and an open dialog. Over the past several months, they have promoted Lunchtime Chats happening online within the community and Coffeehour Conversations, happening in person around the country. For Parlagreco, "the whole thrust behind Prepare New York is about having a more constructive dialog" in a safe environment. They have archived the online conversations, and Parlagreco notes feedback from one member participant: "I always feel so much better after these lunchtime chats."
Today, Prepare New York is also commemorating September 11 through its community-created art project, Ribbons of Hope. Through September 12, anyone can visit the art project alongside the Gardens of Remembrance in Battery Park, Manhattan. Visitors are welcome to add a ribbon to the art project, helping with the "creation of a multi-colored, multi-cultural, tapestry of prayers, wishes, dreams, memories, and celebrations."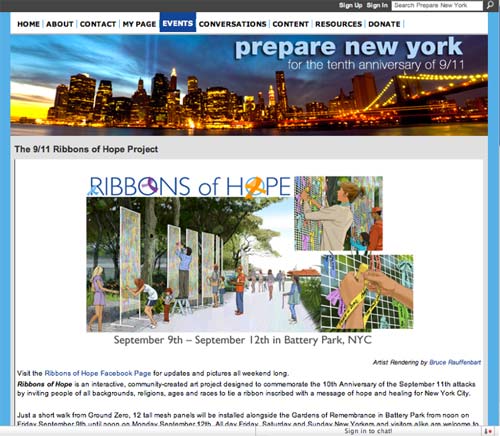 Shifting gears, the Original 9-11 Memorial Run was set up to unite thousands of motorcycle enthusiasts, fundraise for 9/11-related charities and military personnel, and "to ride out east to pay respect for the fallen heroes of 9/11 at the Pentagon, Shanksville and Ground Zero." Ning Creator, Bob Kress, along with nearly 2,000 bikers, embark on motorcycle runs throughout the country on every anniversary of September 11. They use their online community to share photos of their rides, the non-profit's mission statement, and to encourage registration and donations. This year, they're fundraising for the Maimonides Cancer Center in Brooklyn, NY, which helps treat emergency workers turned cancer patients exposed to smoke and toxic dust from the 9/11 attacks on the World Trade Center.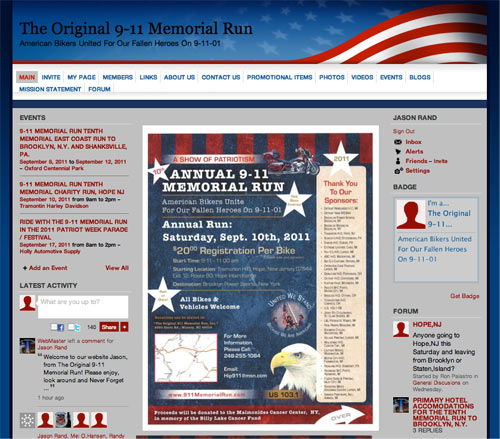 While these Ning communities exemplify the inspiring uses of the Ning Platform, they are both tips of the iceberg in terms of how we see people taking advantage of building a community with Ning, positively helping friends and family, casual acquaintances, and strangers from around the world.
Ultimately, these Ning communities are encouraging digital empathy, by bringing people together through common connections, spanning everything from alumni and hobbyist groups to chronic illnesses and world-changing events.