Make Money Online! Experts Only Need Apply. (That's You)
Ning Network Spotlight
Do a quick search on Google for "make money online", and it's easy to come to the conclusion that the only people making money on the Internet are selling dubious pyramid schemes, questionable stock tips, and pharmaceutical-grade, Canadian Viagra. Where are all the small businesspeople — the folks with a great idea, an entrepreneurial spirit, and the drive to succeed? How are they going about it? We're happy to report that some of these people are succeeding quite well on Ning — by simply shaping a business model around their expertise.
As expected, we've seen a frenzy of entrepreneurial activity by Network Creators in the first three months since the optional Paid Access add-on was released. Many of the early success stories are of Network Creators using either Paid Groups or Paid Membership to monetize their expertise. Richard Robinson and Kay Petal were already offering local and video workshops for a fee. Paid Access enabled them to offer their expertise to a broader online audience in a rich, interactive way. Ariel Meadows Stallings has achieved great success in building the 20,000+ member Offbeat Bride Tribe community and was searching for new ways to generate income from the network. We want to share their stories so other entrepreneurs can get an idea of the possibilities that exists for monetizing a Ning Network.
Offbeat Bride Tribe
It all started with one fiercely independent bride who wanted to do things her own way. When it came time to get married, Ariel Meadow Stallings realized she didn't want to blindly go through with all the trappings of a traditional wedding. Instead, she forged her own path and wrote about her experience in a book called Offbeat Bride. The blog she launched to promote the book grew to include daily updates of "wedding porn" — irresistible photos from real-life, offbeat weddings — along with advice and inspiration to over 200,000 readers. In late 2007, she created a private Ning Network for members of her rapidly growing Offbeat Bride Tribe who are actively planning their weddings. The network has since grown to over 20,000 members.
To provide even more personalized guidance to Tribe members, Ariel began offering Bridechilla, a six week course to "help you tackle your wedding planning with grace, sass and authenticity." For $79.99 ($59.99 for early sign-ups), members join a private group where they receive weekly emails and worksheets, participate in discussions and join video chat sessions with the instructor, Kirsten.
Members raved about the first course, so Ariel scheduled a second. She's generated $2,600 in revenue from these first entrepreneurial forays. "The Paid Access feature is making it super easy to facilitate the eCourse. We went from concept to execution in about one week, and set-up only took 10 minutes! With the built-in Paid Access features, setting up the paid group was as easy as entering my PayPal info, setting the membership rate, and clicking Publish. We made $1,000 in the first 48 hours, effectively covering our costs for both Ning Pro and the Ning Paid Access feature for the year."
The Complete Artist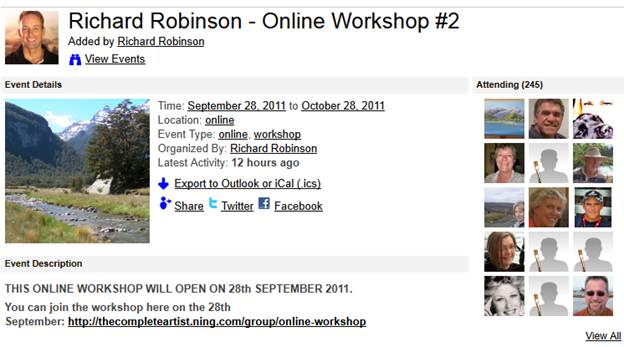 Richard Robinson has been a professional painter since 2001. His paintings are inspired by the natural beauty near his home town of Ruakaka in Northland, New Zealand. If you haven't had the pleasure of visiting Ruakaka, you can experience it through his landscape paintings at his online gallery. Teaching is also important to Richard: "I've been teaching painting as long as I've been learning, and I enjoy helping others along the path as much as I enjoy learning from other artists." For those lucky enough to visit, he hosts outdoor workshops. For the rest of us, he produces video lessons – and over 500,000 aspiring artists around the world have viewed them.
In late 2008, he launched The Complete Artist  network to share his painting blog posts and engage with aspiring artists. With the release of Paid Access in July, he began offering an online workshop on the network. For $20, members join a private group where they enroll in the monthly painting challenge, view or download a video demo, and then have their painting critiqued by Richard and others in the group. As a bonus, they also get a chance to win an original painting by Richard. In the one month since Richard began offering the workshop, 178 members have enrolled, and he's grossed over $4,000 in additional revenue.
The Needle Felters Workshop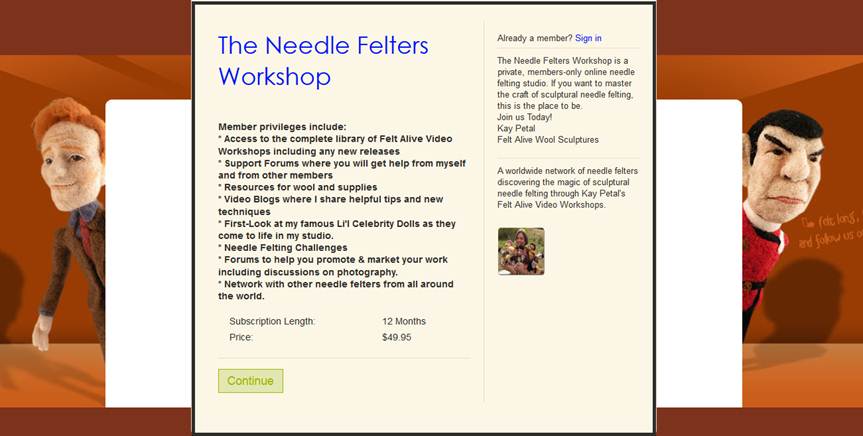 Kay Petal grew up in a small Alaskan town in a large, artistic family. She discovered needle felting by chance in 2007 while searching on the Internet for crafty things to do with old wool sweaters. As she describes it, "After my great discovery, I never really got back to my sweaters – needle felting sort of took over my life." She quickly gained recognition for caricature art dolls. You can check photos and videos of these dolls online at Flickr and YouTube.
Her passion with needle felting extends to teaching others – helping them grasp the fundamentals and discover the magic she learned on that weekend in 2007. She teaches felting workshops locally, including volunteering her time at local schools, as well as through DVDs and online videos on her Feltalive website.
When Ning launched Paid Access in July, 2011, Kay decided to launch an online needle felting studio on Ning, The Needle Felters Workshop, and charge for membership. As Kay promotes it, "If you want to master the craft of sculptural needle felting, this is the place to be." For a $49.95 fee, members get 12 months of access to video blogs in which Kay shares tips and new techniques, the complete library of Felt Alive video workshops, support forums to get help from Kay and other members, first-look at new Li'l Celebrity Dolls as they come to life in Kay's studio, needle felting challenges, and forums to promote and market their work. In just 2 months since Kay launched her studio, she's attracted more than 100 members and earned over $2,500 in revenue. She plans to end her introductory offer at the end of this month and increase the membership fee to $79.95.
What's your expertise?
What are you an expert at? Can you leverage that expertise to teach others in an online setting? Let us know in the comments how you think you could take your expertise in a particular subject and turn it into a genuine, money-making enterprise.
Ready to get started with Paid Access and start generating revenue? Read all about it in our Help Center.