Tweet, Like and +1 refresher! Driving traffic to your Ning Network
General
Your Ning Network
In a new report by SEO firm, Digital Millers, they reveal that having the Twitter share button on a website can help drive up to 7x more exposure via social media channels.
By their very nature, communities on the Ning Platform are social. And to drive social growth and interactions, we've long advocated for using social sharing tools baked right into your Ning Network. Most notably, you and your members have the option to use Twitter's Tweet, Facebook's Like, and now Google+ buttons to any piece of content appearing on your Plus or Pro Ning Network. With these features, you and your members can post content directly from your Ning Network to their Twitter, Facebook and Google+ streams – sharing with their friends, connections and the world.
To review and update which sharing tools you're taking advantage of, head to your My Network tab. Under "Settings" select "Features." Within the "Share Links" sections you'll see a list of available share buttons and links.
While we've made it easy for you and your members to share this content, it's just as important to have content that's worth sharing. Do you have any examples of stellar content? We'd love to see your most Tweet-worthy and Likeable content posted by you and your members.
Tweet & Like buttons on My Modern Met: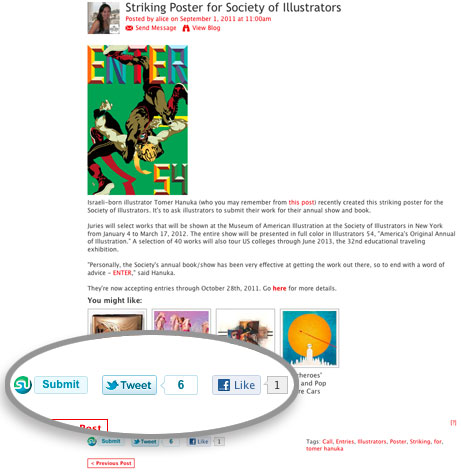 Content Liked from My Modern Met appearing in a Facebook stream: