Turning a hobby into a social business
Ning Network Spotlight
Hobbies. Whether knitting, collecting stamps, running, enjoying a good bottle of wine or indulging in foodie culture, we all have something adding layers to what makes us, well, us. And what tops a hobby? Making a business out of it.
At Ning, our team is fascinated with how we can provide you with the best social technology weaving together people with the things that you hold near and dear to your heart — no matter the hobby, business, topic or focus. One way we do this is by speaking directly with our customers about what's worked for them, and the ways they're leveraging Ning to turn their passions and hobbies into hyper-focused communities populated with people sharing their same excitement.
We recently spoke with filmmaker and Ning Creator, Zack Coffman about Choppertown Nation, the Ning Network he spun out after the wild success of his documentaries about custom motorcycles built from the ground up, and the people making the custom bikes.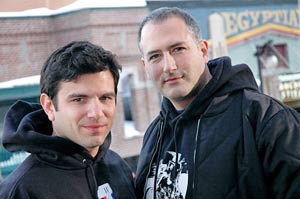 style="padding-left:5px;border:0;"
  Directors Scott Di Lalla (left) and Zack Coffman at the Sundance Film Festival (2007)
Co-directed with Scott Di Lalla, the first of their documentaries came out in 2005, with follow-up documentaries released almost every year thereafter. With the films generating a worldwide cult following, Coffman's Ning community, Choppertown Nation, began about 3 years ago under the premise that it would be neat to have a place where the fans could have a hub to celebrate the documentaries and their excitement for building custom rides. "We had a lot of friends on our MySpace and Facebook pages," said Coffman. "And we thought, we ought to make a network with our own brand and title. We wanted pure, constant, and consistent branding with our own site." Coffman chose to use Ning to build the community, and with that, Choppertown Nation was born.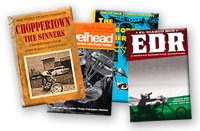 Since its launch, nearly 4,000 people have joined Choppertown Nation, and the site has seen over 50,000 images of custom bikes uploaded directly by its members. With such a bevy of content, the result has been a lot of interested eyeballs checking out what's being said and made by the greater community, and Coffman has leveraged the site as a way to authentically promote DVD sales for his other films. "We're able to advertise in an organic way by offering members and visitors our DVDs and other items they'd probably like to buy. In many ways, what we're selling is just a natural extension of what they're already enjoying on the community."
Building on top of a stream of great content and engaged members, Coffman also regularly offers contests and competitions to the community. In Choppertown's latest competition, wrapping up at the end of this month, members can upload 2 pictures of their bike builds and tell everyone about what they've built. Top contributors have the opportunity to win apparel, accessories and other prizes from industry-known sponsors like Biltwell, Dickies, Licks Custom Cycles, Baker Drivetrain and DicE Magazine. Contests like this provide an endless loop for engagement and friendly competition, while bringing sponsors front and center to an already-active and influential biker community.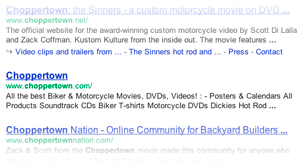 Coffman also cites that SEO (search engine optimization), where a website appears in search results like on Google and Yahoo!, remains high for his sites given that his community lives on the Ning Platform. By linking between his Ning community and his online store, this helps his business come up higher in search results as cross-linking between the sites builds relevancy for his brand. In turn, this helps as people search sites like Google for information about building custom motorcycles to come across Choppertown Nation and its online store.
For Choppertown Nation, which started out as a hobby turned documentary series turned full-fledged community combining a business, it's a shining example for how a Ning customer is creatively and naturally driving engagement and increasing visibility on the web. As a phrase motor enthusiasts know well, we're glad to see that the Choppertown community and Coffman live by the mantra "Run what you brung," all day, everyday.
Have you turned your hobby into a business using Ning? Tell us your story — we'd love to hear about it.
Let's start create business website with Ning: https://www.ning.com/create-business-website/