Baseball is happening, on Ning
Ning Network Spotlight
As Major League Baseball kicks into high gear for its 2012 season, Ning communities are showing their excitement for America's favorite pastime.
Baseball.net made its debut as this season got started. Though the site is a rookie in terms of tenure on Ning, they've scored an A-list custom domain name. According to Arbel Arif, owner of Baseball.net, they built their site to support a "vast community of baseball enthusiasts who gather to 'talk baseball'." We're looking forward to following their growth as the season progresses.

Opposite Baseball.net, The World Baseball Network and CheckSwing have been using Ning for 3+ years, amassing nearly 9,000 members and aspiring baseball players.
On Netflix Movie Fans, the community answers the question "What are some of your favorite baseball movies" (A League of Their Own or The Sandlot, anyone?):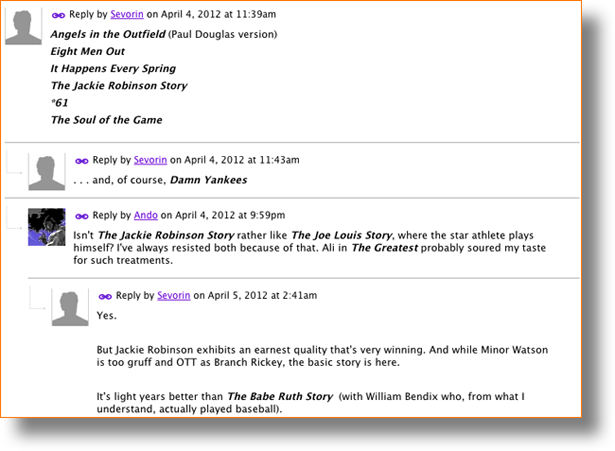 For sports memorabilia collectors, the Sports Collectors Social Network provides a taste of retail therapy. The Ning community connects like-minded collectors, and provides useful tools to help in their search for elusive and rare baseball cards and other must-have goodies.
On MyTown Colorado, community member Alyson Miller recently publicized an event inviting children from all around Boulder County to gather to sing "Take Me Out to the Ballgame" and be recorded for the soundtrack of Labragirl Pictures' film 6-4-3. The title refers to how a double play happens between players on the field: six is the shortstop, 4 is the second baseman and 3 is the first baseman.
The Hawai'i Chamber of Commerce of Northern California is using their Ning site to bring together members and non-members of the organization to a real-world meet-up for an upcoming San Francisco Giants game against the Milwaukee Brewers on May 4. They'll be rooting for Tim Lincecum and Brian Wilson, for sure!
Meanwhile, as anyone who's played on a club sports team knows, having a great looking uniform adds to team morale and pride. San Francisco-based Fog City Athletics & Apparel is a company specializing in athletic team uniforms and casual wear, ensuring teams are looking sharp. Their site lives on Ning, where they show their portfolio of custom print graphics and designs available for creation. From their site, they recently Tweeted a shot of custom designed baseball caps made by the company. Lookin' good, guys!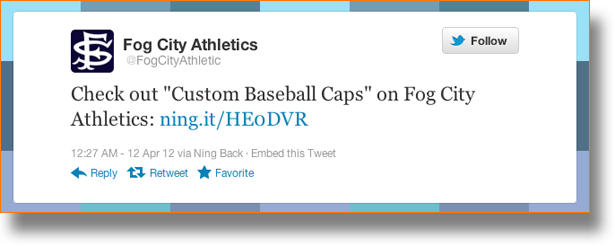 In the same vein, members of the Kreg Jig Owners Community are learning how to build a baseball storage center with their Kreg tools to organize the likes of little league gear: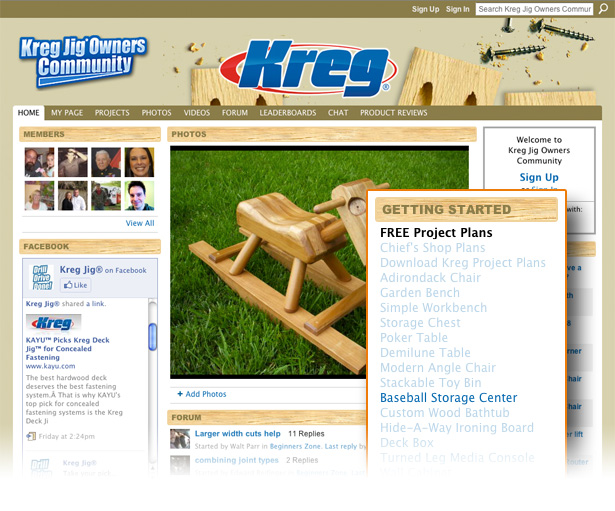 From spectating and playing, collecting memorabilia, and making apparel and equipment accessories, bringing a community together to highlight the love of baseball is a home run on Ning.