Memorial Day weekend kicks off many summertime activities, most notably barbecuing and entertaining! If you're looking to barbecue, you can find great recipe ideas and get inspired by checking out what others are cooking or sharing on Ning sites.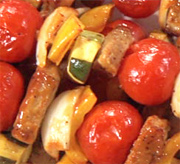 On How I Taught My Brother To Cook, the site's photo gallery has hundreds of dishes inspired by Italian, Provençal and Catalan cooking styles. Pulled pork sandwiches? Yes, please. For the calorie-conscious person in your family, Gen's Guiltless Gourmet highlights lighter meals like delicious vegan BBQ chicken skewers. FoodTube dishes out a wicked mix of recipes and restaurant reviews to ensure you don't have a bad meal.
If simply enjoying hearty food is more your forte, look no further than BBQ Thom.com. The Ning site is all about catering championship style BBQ in Southern California by encouraging and organizing BBQ cook offs. Ning Creator Thom Emery is an avid member of the barbecue community and has been involved with many barbecue organizations and forums. He's also won many cook off competitions. He shows how he smokes a beef prime rib:
The Little Seed, an environmentally-conscious shop and Ning community, blogs about many delicious recipes perfect for the warmer months. Recent recipes include baked kale chips, coleslaw, lemon squares and clafouti.

If you're looking to add kick to your food, check out Hot Sauce Bloggers. The Ning site has everything from sauce reviews to videos of sauces being made and used in cooking. On Hair Metal Mansion, Ning Creator Andrew shares that guitarist Chris Caffery of the Trans-Siberian Orchestra and Savatage has started his own brand of hot sauce called Tears of the Sun. It seems that burning your taste buds has never tasted so good. And perfect for summer.

What delicious things are you cooking and eating over the Memorial Day weekend? Share your recipes on any Ning community you're a part of and let us know where we can find it!
No related posts.