Ning Relaunch: Social, Mobile, VIP
Ning News
Technology
Updates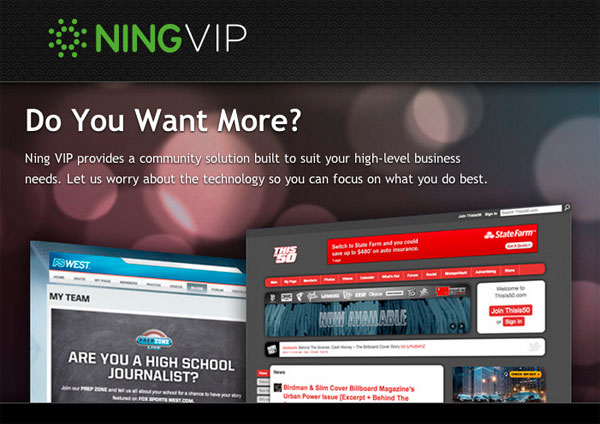 Today, Glam is re-launching Ning as the next generation social platform for creators, businesses, and brands and announcing new ad options, a new mobile web version, and a VIP subscription service.
If you're already a Ning customer, you may not have noticed any drastic changes since Ning and Glam joined forces to become one entity last December. We've been working diligently behind the scenes to make sure the transition has been a smooth one. What did we know when we started? We knew the combination of our two companies was going to be all about social. Ning + Glam = Social Publishing. This short-hand equation sums it up pretty well. Now what, specifically, have we done so far? And what comes next?
Social Aggregator
A big focus this year has been on engineering the heart and driver of engagement on Ning Networks — the Activity Feed. We've integrated a range of social aggregation options directly into the Activity Feed. Things like Twitter search, hashtag results, and custom RSS options have helped make Ning the true hub of social activity for Ning Creators. Even better, we've been able to drive this development directly in tandem with the launch and growth of Foodie.com, a Glam social network powered by Ning technology that's been eating up market share in the online food world. Look for even more social networks in that vein, like the new Tend.com social network for parents. Social hubs like these can take advantage of Glam's advertising reach and Ning's technology, providing even more momentum to Ning's already impressive 50 million unique monthly active users.
Social Mobile
Perhaps the biggest project this year has been a complete rewrite of the Ning mobile experience. We've been working on it with our beta group of testers for the past few months, and we're happy to report that all Network Creators can turn on the beta right now if they wish — look for it in the Ning Labs section of your dashboard! It's a major revamp that eliminates the need for Network Creators to create customized apps for every platform (and every app store). This new version works for mobile devices, iPads and tablets right out of the box. It's been designed in future-friendly HTML5, and it's a giant leap forward in usability and on-the-go convenience. Best of all, it's a great starting point for ongoing advancements. What's next with this new mobile platform? More money-making opportunities with Glam mobile ads. Ning Creators will soon be able to earn some additional revenue on that all-important and ever-growing mobile traffic.
Glam Social Ads on Ning
Just as Ning has already made Glam more social, Glam is helping Ning become more advertising friendly. We started by rolling out a program for larger Ning Networks to run premium, high-quality Glam brand advertising on the Ning Platform. It's been a great success, and we're happy today to be able to hint at more revenue generating opportunities in the future — for Ning Networks large and small. We'll soon be introducing optional, easy-to-turn-on ads that can appear directly on Ning Networks and will allow even more Ning Creators to join in the revenue generating opportunities.
Ning VIP & Design Services
We've always had requests for more. For example, some business and professional customers have asked us for a higher level of service or a premium SLA (service level agreement). Others want our internal design folks to take our collected years of experience and make them a unique, stand-out design for their social network. We've been adding some of those services quietly in the past few months, and with the re-launch of Ning we're now ready to officially roll out the new Ning VIP plan, complete with tons of storage and bandwidth, a dedicated account manager, training, consultation, and custom design and development. Don't need the full VIP treatment? You'll be happy to know that we also offer a range of Design Services for both new and existing customers.
The Ning Product Roadmap
We've always been different than most tech companies in that we publish a public Product Roadmap. It's our way of showing our customers that we're committed to continual development that is based on specific features they've requested us to build. If you've been following along this year on the Creators Network, you'll know that we've already:
Added a slew of social options like expanded sign-up and sign-in using LinkedIn and Windows Live. Up next: an improved invitation system with additional third-party integrations.
Introduced Member Categories + Badges which provide all kinds of new ways to expand member reputation, as well as provide an enhanced sense of belonging to the community. Plus, avatar badges can be a whole lot of fun.
Rewrote the Ning Chat application completely from the ground up in HTML5.
Transformed our limited customer knowledgebase into a beautiful new butterfly of a Help Center. We've consolidated all of the content that our customers need to be successful in one handy location.
Those are just a few of the things we've created in the first half of the first year of Ning and Glam, and we look forward to adding more and building more. For example, be on the lookout for a massive redesign of to the administrative Dashboard that Network Creators use nearly every single day. It's all part of the Glam + Ning equation that's already adding up to some winning numbers.