Book Communities: a Powerful Tool for Author Discovery and Promotion
Ning News
Technology
The rapid growth of the Internet has painfully disrupted the music and newspaper industries, but there's ample evidence book publishing is going to come out a winner in their digital transformation. Why? We think it's because they've got community on their side. We've seen successful book-focused communities on Ning since we opened up shop, and we're seeing them grow like no other category. It seems to mirror the wider trends in book publishing.
More books by more people, less from corporations and trees
According to Publishers Weekly, starting in 2008 more books were self-published than those published traditionally. The following year, the number rose to 76% of books being produced by self-publishers or micro-niche publishers. The trends are easy to spot: Online retailers such as Amazon give authors global distribution. The Kindle and iPad are radically changing the way people read. Social platforms offer powerful new ways for authors to efficiently reach a huge audience and for readers to discover new authors. The trends become even more radical when you consider the rise of ebooks. An estimated 3 million books were published in the US in 2011 – up from only 300,000 in 2003!
More people turning to communities to read and be read
These seismic shifts in publishing and reading options have forced emerging authors and their publishers to dream up innovative ways to reach new readers and cultivate the loyalty of existing readers. Increasingly they're using community platforms like Ning to introduce themselves to new readers, celebrate their biggest fans, and in some cases, extend the philosophy or mission espoused in their books. For readers, these communities are a fantastic way to discover emerging authors, meet favorite authors up close and personal, and in some networks, role play their favorite characters.
Places to discover your next good read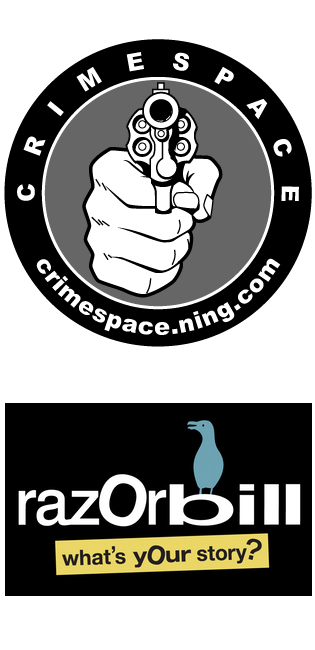 Many of the first online book communities created on Ning were a place for authors to collaborate with each other and introduce themselves to readers. These have frequently focused on a single genre of books. A great example is CrimeSpace.ning.com, "a place for readers and writers of crime fiction to meet". Daniel Hatadi has grown this community to almost 4,000 highly engaged members since launching it in 2007. Another highly successful community is Book Blogs with an astounding 19,000 author and reader members. Razorbill Books, a young-adult fiction division of Penguin Canada, launched Razorbill.ning.com in 2011. It's a space where readers can find out about anticipated titles before they launch and get up close and personal with acclaimed authors. It's a unique venue for Razorbill's authors to promote their books.
A space to cultivate a fan base
Book communities on Ning have also naturally evolved to be places where individual authors can reach their readers. Gena Showalter, a leading romance novel writer, launched Genashowalter.com community as her main website in 2010.  Since then, over 16,000 of her most loyal fans have joined the community to interact with Gena and each other on a daily basis. They find out the latest news about upcoming novels, watch video interviews of Gena and join groups of other readers with similar interests.

Some authors take an if-you-build-it-they-will-come approach to community. Kit Berry, the successful young-adult author of the Stonewylde Series, began by building a loyal following of over 1,000 readers with her "home-grown social network site" — which then led to a book deal with the Orion Publishing Group. (Read about her smart community approach on Futurebook.) Kit is an active participant in her Stonewylde.net community – blogging, responding to discussion posts, and posting photos and videos.
It won't be surprising to hear that a number of publishers have built online communities for individual authors to attract and cultivate fans.  Little, Brown Books has grown the Beautifulcreaturesnovels.com community to almost 5,000 fans of the series of novels written by Kami Garcia and Margaret Stohl. Penguin Young Readers launched the Vampireacademybooks.ning.com community in 2010 and used it to build a loyal following for Richelle Mead of over 6,000 members.
Hachette Book Group has leveraged online communities to activate fans for several of their authors.  One of the most prominent is James Patterson. Myjamespatterson.com is an active community where over 51,000 fans of this mystery and thriller author can bond with each other and rave about the author. Max-dan-wiz.com is an even bigger community of over 68,000 fans focusing on his science fiction Maximum Ride, Daniel X and Witch & Wizard series and novels.
Fans who show up to play

One of the most interesting (and powerful) trends with online author communities encompasses role-playing and fan fiction. Stephenie Meyer's Thetwilightsaga.com (managed by the Hachette Book Group) is a touchstone community that has spawned hundreds more communities. Many of the 500,000 members of Thetwilightsaga.com join a team and act out the lives of their favorite characters from the Twilight series of books. Twilight Saga readers can join the independent Twifans.com or Thecullensonline.ning.com communities to act out their favorite characters. Too young for Twilight? Harry Potter fans can join one of the four Hogwarts houses and have fun with 42,000 other fans on Mugglespace.com. Based on the massive success of these communities, it's clear that a younger generation of readers sees books and reading as more than just reading books.
A broader mission
Online communities can be an even more powerful solution for authors when they use their writing as a springboard to a larger purpose.  Gabrielle Bernstein launched the Women's Entrepreneurial Network just one year out of college and has been a motivational speaker since 2004. She self-published her first book, Add More ~ing to Your Life: A Hip Guide to Happiness, in 2010.  Her second book, Spirit Junkie: A Radical Road to Self-Love and Miracles, was published by Random House in 2011. At the same time her motivational books were achieving wide distribution, she built HerFuture.com into a vibrant community over 21,000 strong where Gabrielle shares her philosophy and works with other women to mentor, inspire and connect with each other.
After successfully battling a rare and incurable form of cancer through nutrition, Kris Carr made a documentary about her journey and published a companion book, Crazy Sexy Cancer Tips. Her Crazy Sexy attitude expanded with more books, including Crazy Sexy Diet, targeted at anyone looking for a healthier lifestyle. She launched My.CrazySexyLife.com as a companion to her books. Over 37,000 readers and adherents interact with this "wellness warrior" — and each other — on a daily basis.
One of the latest examples of using writing as a springboard is WANATribe.com,  a community launched by author Kristen Lamb. Kristen is the author of two best-selling books providing insights for authors to use social media to build a loyal fan base of readers. WANATribe.com brings together creative professionals who are dedicated to supporting one another. Since launching only 2 months ago, this community has quickly grown to over 1,300 members — proof that "We Are Not Alone" is a powerful idea!
All told, that's 16 popular communities on Ning that are serving more than 650,000 members — and that's not nearly all of the book communities on Ning! We expect this trend of book lovers and bookmakers using Ning for community will continue to mirror ongoing trends. Book publishing isn't just being disrupted but being remade into something that genuinely incorporates the enthusiasm we all have for our favorite books — by giving us a place to share it.