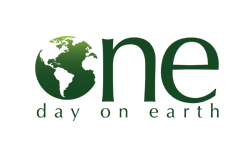 One of our absolute favorite movements/sites/events/unique-things-that-can't-be-pigeon-holed-into-a-simple-category is One Day on Earth. If you haven't heard of it, it involves many thousands of people (anyone who wants to participate, really) from all over the world filming snippets of video on one single day. People record what they think, what they do, what they need, what they love — whatever's on their mind. Then, everyone uploads their clip to create a compelling time capsule that may just live forever. After the big day is done, the people behind the One Day on Earth project get to work editing it all into a movie masterpiece. It's a brilliant idea that we look forward to at Ning every year.
I first stumbled across this Ning-driven site in 2010. I thought 10/10/10 was a very neat and brilliant idea. Since then, they've kept going. It's no flash in the pan. On 11/11/11, they expanded their reach by sending 1,000 video cameras to places around the world where cameras are hard to come by. This year, they've gone even further and created a full-length film that compiles the past two years' footage, which debuted on Earth Day earlier this year.
One Day on Earth is only going to get bigger, and you can be part of it. There's still plenty of time to join in and participate (6 more days, in fact). Chances are you can accomplish this by simply taking video footage with your phone.
So, what are you waiting for? Take 15 minutes out of your day next Wednesday to film something extraordinary — or even just plain ordinary. Show the world who you are, where you live, what you do, what you care about — anything that's important to you. If you're a Ning customer, we've got an even better idea: Why not encourage your community to join in and film yourselves doing whatever it is all of you do best.
Everyone who contributes at least one minute of footage gets to watch the final film! But more importantly, everyone who participates gets to be part of something bigger than themselves. It's community on the grandest scale imaginable. And it only costs a little bit of creativity.
One Day on Earth – Film on 12.12.12 from One Day on Earth on Vimeo.
---
Are you an educator? Get the toolkit and make this happen!
---
No related posts.