To activate this feature, open up your My Network tab and click "Ning Ads."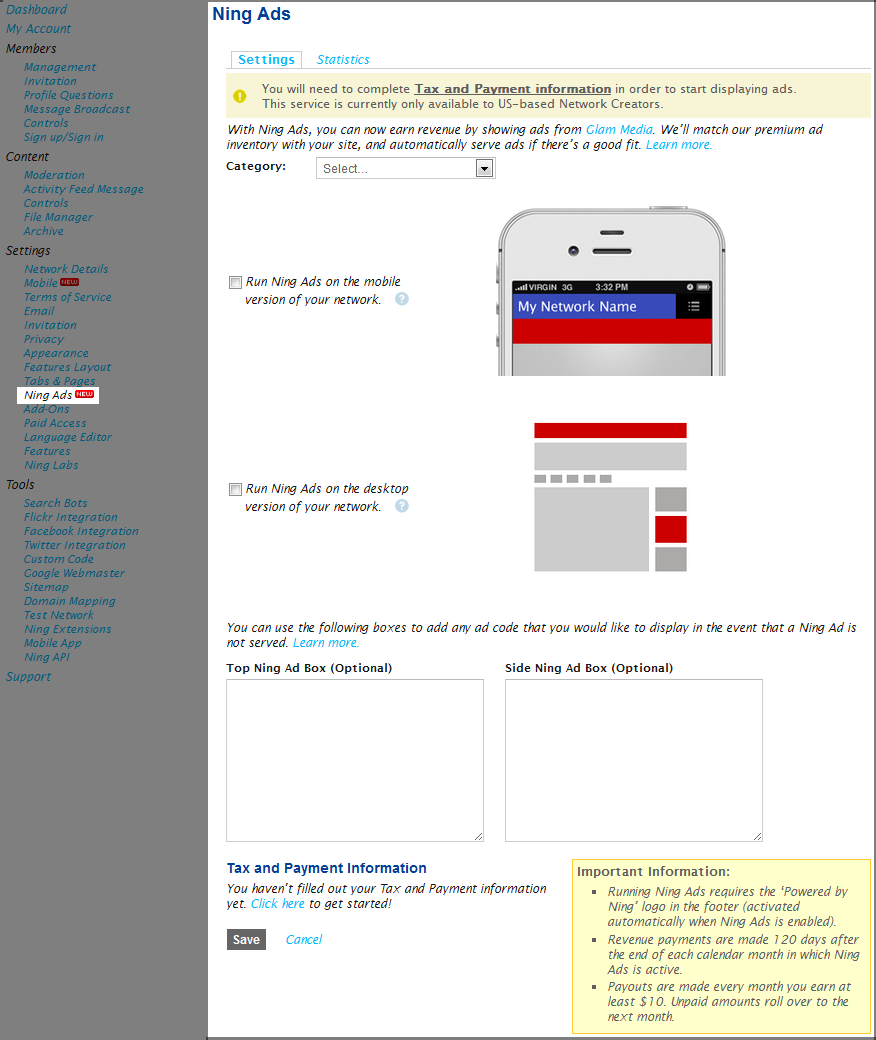 Next, check off the boxes to run Ning Ads on the desktop version, mobile version, or both. The red boxes show you where a Ning Ad will be served up. If you choose to show desktop ads, the Side Ning Ad Box will be added to the side column underneath the Member Account module and the Top Ning Ad Box will be added to the header automatically.
If you'd like to run back-up code in the Top or Side Ning Ad Box, you can paste it into the text fields. You could even add HTML coded for a header, widget, or links there. Bear in mind that while Ning Ads are enabled the optional content for the Ning Ad Boxes can only be edited on this settings page. If you visit the Main Page you won't see Edit buttons, and if you visit the Features Layout page the Top and Side Ning Ad Boxes cannot be moved.
Once you've got your Ning Ads and Optional code set up, select a Category for your network. Since Ning Ads match based on the relevancy of your content, make sure you choose the category that fits your network best. You can always go back and change your category if you need to.
Click the "Click here" link to open a new tab to Ning.com and fill out Tax & Payment information. Once that's done and everything is dialed in on this settings page, click the Save button to confirm your choices.
You can visit the Statistics page at any time to see how many impressions your ads are getting and how much revenue you're earning!
Similar Articles: