You can create and broadcast your own video channel on Ustream from your computer or mobile phone. To get started, go to http://www.ustream.tv/ and sign up. You'll be asked to create a username and provide information such as your name, email and location, after which you'll be prompted to name your channel.
After you do this, you'll be taken to the "Channel Info" section of "Manage My Channel". The channel tags here will serve as keywords to help your channel turn up in search results. The channel picture you provide will be the image that displays when your channel is offline.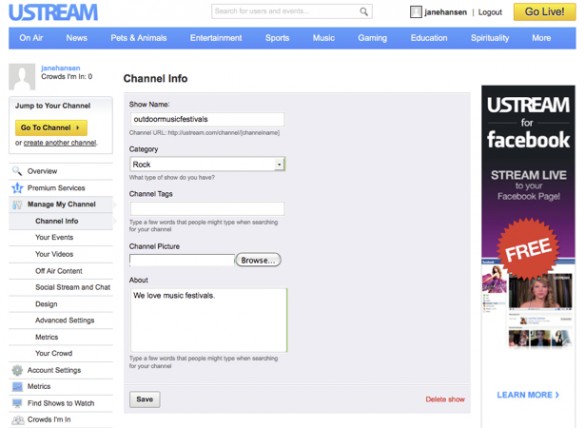 There are many options to further customize and manage your Ustream channel you've created.
The "Events" section allows you to schedule a timed event.
"Your Videos" allows you to select among previously recorded broadcasts on your channel by going to the "Your Videos" link. There will be no content in here until you have recorded broadcasts you have made on your channel.
"Off Air Content" is where you can determine whether to play videos or just show a slideshow when you're off air.
"Social Stream and Chat" allows you to sync up with Twitter, Facebook, MySpace and AIM. Also appoint Chat moderators from this section.
The "Design" section allows you to customize your channel page's appearance, much like you can on your network's My Page.
The "Advanced Settings" section is where you'll set your channel's privacy setting.
"Metrics" provides information about your channel and its viewers.
"Your Crowd" refers to fans of your Ustream channel.
After you've created your channel, you'll be able to click on the "Go Live!" button to start broadcasting. A new window will open and an Adobe prompt asking you to allow Ustream to access your camera and microphone. Click "Allow" and the broadcast will open.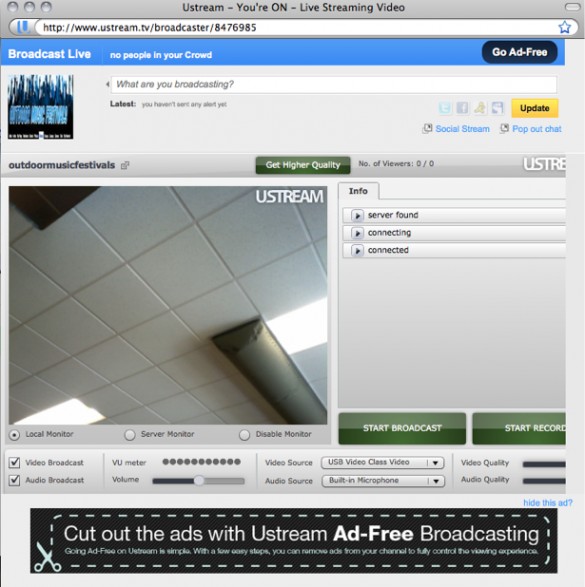 Click "Start Broadcast" to get your channel on air. Visit http://www.ustream.tv/get-started for more tips.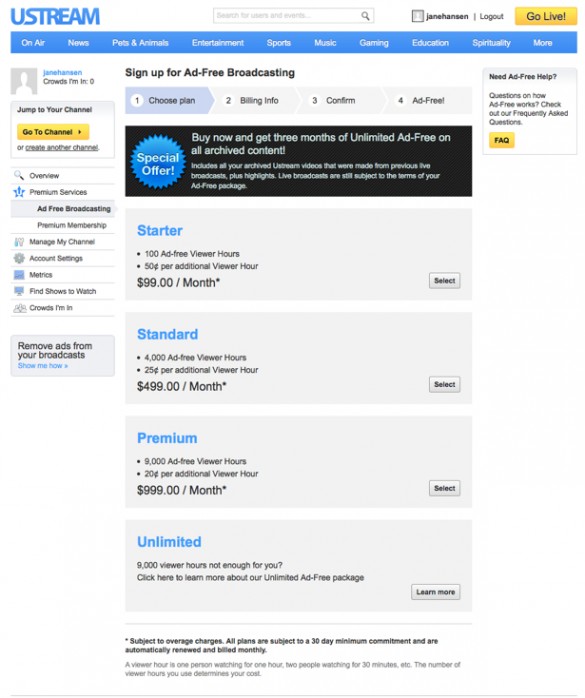 Note that ads will appear on your video channel, but you can upgrade to a paid account from the "Premium Services" link in order to bypass any ads on your channel.
Similar Articles: