Ning Apps are third-party applications which we have verified should integrate nicely on your Ning Network, and provide you with more ways in which to engage your members on your network. Add TokBox for video chats on your network, EventBee to create and sell tickets to events or add Listings to create a classified ads space for your members.
Go to your My Network tab and click "Features Layout" under the Settings section. Click on the "Add Ning Apps" link at the bottom of the column.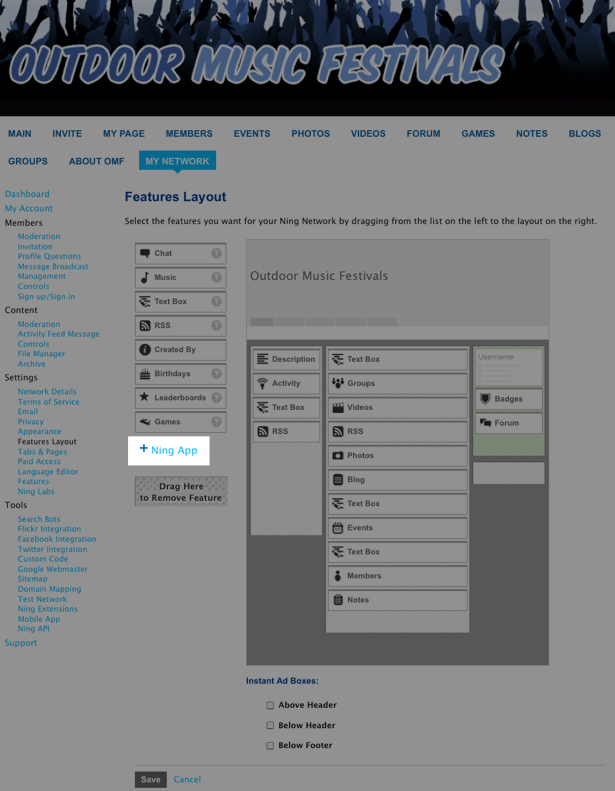 This will take you to the Ning Apps directory: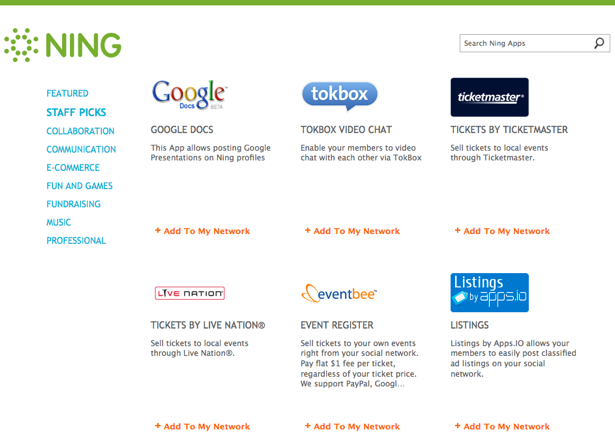 Click on the App image to learn more about the Ning App. Click on the "Add To My Network" link just below each App to add it to your network.
Any activity on your Ning Apps will appear as an update in the Latest Activity feed on your Main Page. Go to your My Network tab, click on "Features" under the Settings section, and click on the Activity Feed link underneath Features. Find the box next to "Ning App Activity" and check it to have your Ning Apps activity appear in the Latest Activity feed, or uncheck it to remove Ning Apps activity from the feed. Be sure to save any changes you make.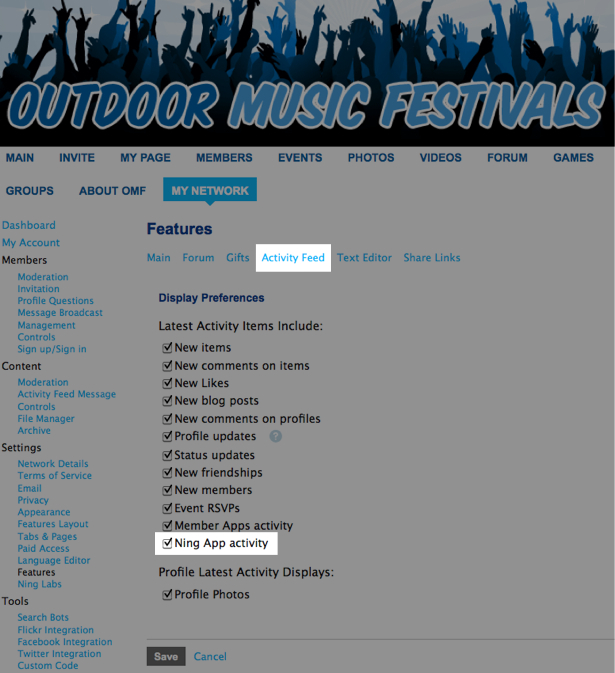 For more information about managing the settings of your Ning Apps, check out our article here.
Adding a Ning App to your network will create a new tab for it. Just like your other tabs, you will be able to choose how your Ning Apps are displayed from the Features Layout page. Legacy Ning Mini networks can add up to two Ning Apps, Ning Plus networks can add up to five Ning Apps and Ning Pro networks can add up to ten Ning Apps.
If the Ning App has a profile view for members, it will also automatically get added to their My Apps page as well. For members' apps, these display best on a separate page instead of their My Page. You can make this be the default setting by clicking on "Controls" in the Members section and selecting the radio button next to "[Apps should appear on] a separate Apps page." Click "Save" when you're done.
If you encounter any difficulties with a third-party app, head over to the app's detail page in the Ning Apps directory and look for where it says "Support" for contact information. Copy that contact address to send their support team an email.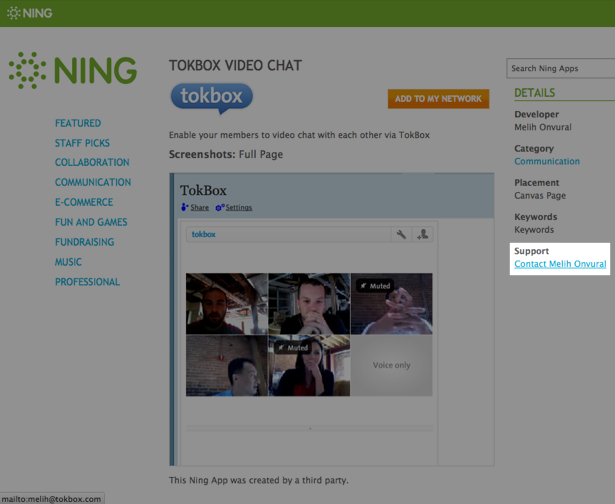 Check out the related articles for more information on Ning Apps.
Similar Articles: