Ning Extensions allow third-party applications to interact with the content on your Ning Network to provide additional functionality and a richer, more flexible experience. Ning Extensions are available on all Ning Plus and Ning Pro Networks, and can be found under Tools in the My Network tab. Click on "Ning Extensions" to get started.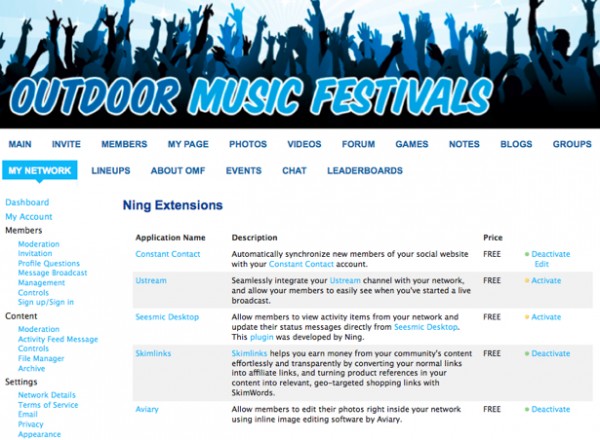 On the Ning Extensions page, you'll see a list of applications that you may want to integrate with your Ning Network. When you see one you're interested in using, click the "Activate" link to the right of its description to make that Ning Extension available on your Ning Network.
New Ning Extensions will continue to be added, and can give Network Creators a lot of the functionality they're looking for. Here are some currently available:
Constant Contact enables you to automatically add new members who join your network to a specific list in your Constant Contact account. This is a great way to easily maintain a list of contacts to which you could then, for example, send a customized email newsletter.
The UStream extension is a great way to add streaming video to your network. A classroom might benefit from using this extension as a way to run lectures online, which students could watch, and even optionally engage in a text chat about. After it's set up, members can easily see when you have a live broadcast underway.
With the introduction of the Seesmic Desktop 2 Ning Extension, Network Creators and members can now easily view and update their social networking accounts — including Ning, Facebook and Twitter — from one central location.
Skimlinks presents yet another way for Network Creators to monetize their Ning Networks. By activating Skimlinks, you'll be able to earn revenue on the traffic to links in your Ning Network.
To make adding content to your Ning Network even easier, the Aviary Ning Extension lets you and your members edit photos in-line before they're added to your Ning Network.
For the most up-to-date list of what's available, check out the Ning Extensions page of your Ning Network.
Similar Articles: