The Statistics page lets you see how your Ning Ads are doing each month. It's broken out into two graphs: Impressions and Revenue.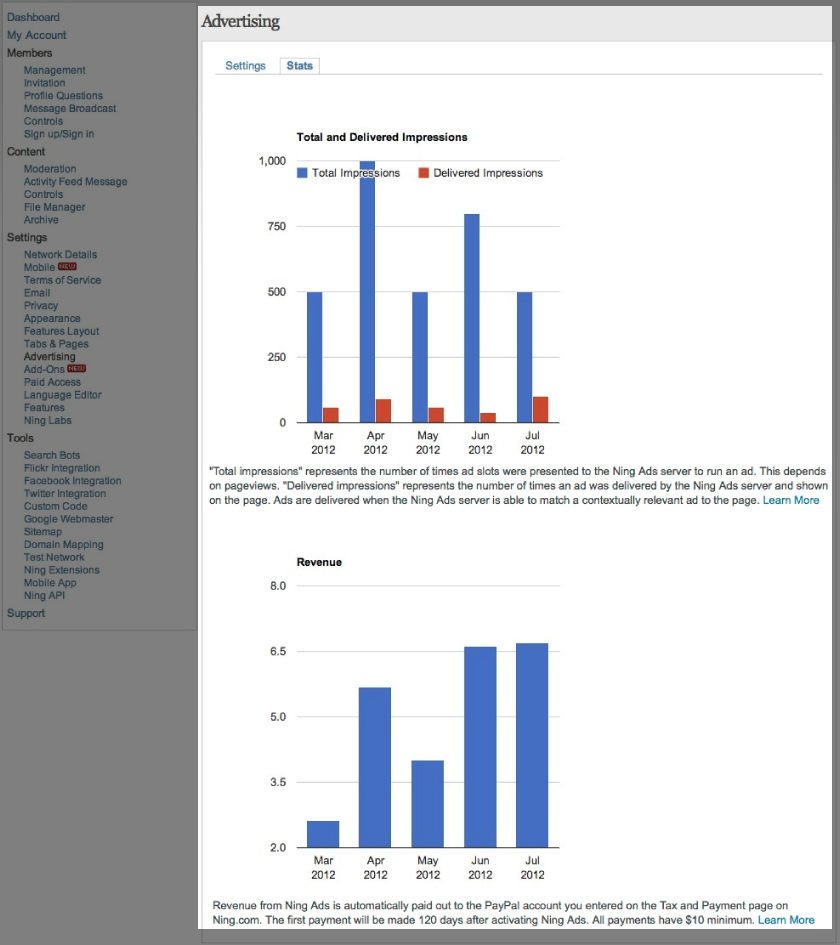 The first graph shows you the number of total impressions versus the number of delivered impressions. Total impressions is related to page views: each time a page with a Ning Ad Box is viewed, total impressions increases. If you're running Ning Ads in the desktop view of your Ning Network, you would receive two impressions when a page is viewed by a member (one for the Top Ning Ad Box and one for the Side Ning Ad Box). On the mobile version you'd receive one impression per page view (for the Top Ning Ad Box). Delivered impressions show you how many times an ad was returned by the Ning Ads server and shown on the page. The more relevant your content is to the category you've chosen for your network, the more likely it is that an ad will be displayed.
The second graph shows the revenue Ning Ads are earning and is based off the number of delivered impressions each month. Payment is made monthly to the PayPal account specified in the Tax & Payment section on Ning.com.
Payments are made 120 days after the month ends, so you shouldn't expect to see any payouts for the first four months. For example, if you activate Ning Ads at the beginning of August your first payment would arrive at the end of December.
Bear in mind that there is a $10 minimum for all payments. If you don't earn $10 in one month, payments are rolled over to the next month and payed out when the $10 minimum is reached. For example, if you earn $3 in one month you wouldn't receive a payment. However, if things picked up and you earned $10 the next month, you'd see a $13 payment.
Information on these graphs is about 48 hours behind real time.
Similar Articles: