If you've created a Facebook Sharing app for your Ning Network but it isn't posting content to Facebook as expected, or isn't letting people import and invite their Facebook contacts, please try the following steps. Note that this app is separate from your Facebook Social Sign in app.
Here are some symptoms you might run into if your Facebook Sharing app isn't configured correctly:
Clicking the "Post content to Facebook" link in the Settings > Connections page does nothing or causes the page to scroll to the top
Error messages pop up when posting a Status update with the Facebook check box enabled
Content that is shared via the Facebook App does not show up in Facebook
Importing your Facebook Friends list fails or loads continuously
Sharing content to Facebook
Sometimes the posts you share appear differently on your Facebook profile or Facebook Page. This is likely due to privacy settings. If you belong to a public Ning Network, your post will display the title and a description of the content you just shared. If you are sharing a photo, a thumbnail of the shared photo is also displayed in the post. Here's an example of how a shared blog post from a public network will look on your Facebook wall: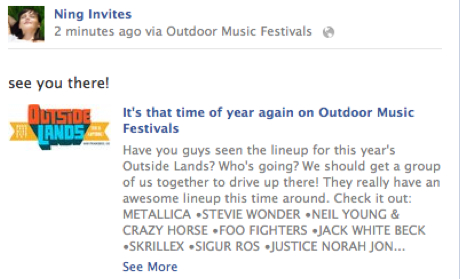 If the content you are sharing is private — or you are a member of a private Ning Network — you'll still be able to share content, but your post will not include thumbnails or a description of the content. Instead, you'll see the network's icon and a description of the network:

Inviting your Facebook friends to your network
If you're experiencing difficulty with getting the Facebook Invite function to work on your network — seeing error messages, seeing a spinning wheel, not being able to click on a button — chances are, you'll need to edit your Facebook Sharing app. See: Troubleshoot Facebook Invitations
Using one app for more than one function
If your network is using one single Facebook app for members' ability to sign up with their Facebook credentials, as well as invite Facebook friends and share content to Facebook, one of these functions is likely going to fail.
To see if you are using the same Facebook app for both your network's Facebook Sign In and Facebook Sharing functions, use these five steps to check:
Go to the network's Facebook Integration page and hover the mouse over "Edit or delete your Facebook App".
You'll see an App ID number listed in the browser's status bar.
Note the last three digits of the Facebook App ID.
Then go to My Network > Members > Sign up / Sign in and click on the "Details" link next to Facebook.
Check the last three digits of the Facebook App ID you see there.
If both sets of numbers match, you are using the same app.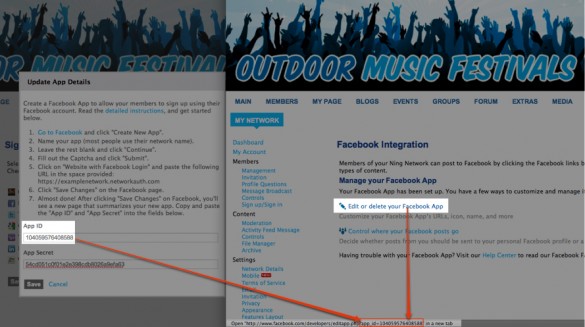 To fix this, you can either reset your Facebook Sign In app (by clearing out the details in the "Update App Details" window and saving your changes) and create a new app, or you can go to Facebook and delete the app for both functions.
If you can't create a Facebook Sharing App
If you can't create a Facebook App from the Facebook Integration panel on your Ning Network, there may be failed apps that are blocking its creation. You may want to see if any previously-created applications are blocking the creation of new apps. To do this:
Sign into Facebook with the account you used to create previous Facebook Apps.
Sign into your Ning Network and click "Facebook Integration."
Click "Edit your Facebook App."
Click "Apps" from the bolded top menu.
If there are any unused Facebook Apps from your Ning Network, delete them by clicking "Edit Settings" then "Delete App."
Create a new Facebook App using the instructions in this Help Center entry.
Note: If you do not have a network icon, Facebook app creation may fail.
Delete and Recreate the Facebook Sharing App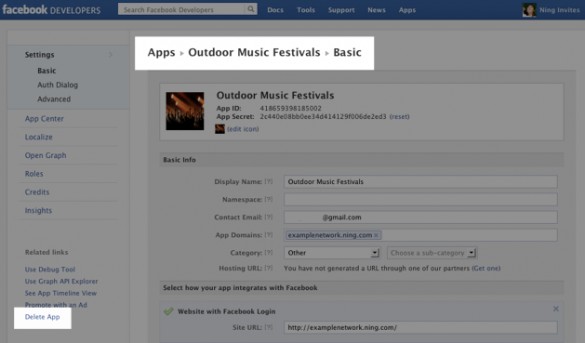 As a last resort, you can delete your Facebook App.
Please note that doing this will delete all content on your Facebook App's page and comment wall. When doing this, ensure you don't delete your Facebook Sign In application. To do this, follow steps 1-4 in the section above, then choose "Delete App." Then go through the Facebook App creation process again to set up a new Facebook App.
Similar Articles: