Ning Apps are third-party applications which should integrate nicely with your network. Sometimes, though, there may be something not quite right in the app. While there is not a way for us to change how the app functions, check these situations below to see if this resolves what you're experiencing.
My Ning App does not display at all, or is displaying this weird error message on my network's main page:
"Unable to locate an appropriate view in this gadget. Requested: 'home' Available: [canvas, ning.main]"
If your Ning App does not display as a module on the main page of your network, or if you see an error message like the one in the screenshot, this means that this particular app does not have a main page view. The best way to view this kind of app is to click on the navigation tab for it, which was created when the app was added to your network.
To remove this app from your main page without removing the app entirely from your network, click on your My Network tab to get to your dashboard. Then click on the "Features Layout" link to access the Features Layout management page. Drag and drop your Ning App into the "Drag Here to Remove Feature" section of the page and save your changes. Now your app will be accessible to you and your members from the navigation tab but won't be visible on the main page.
My Ning App is getting cut off on the page: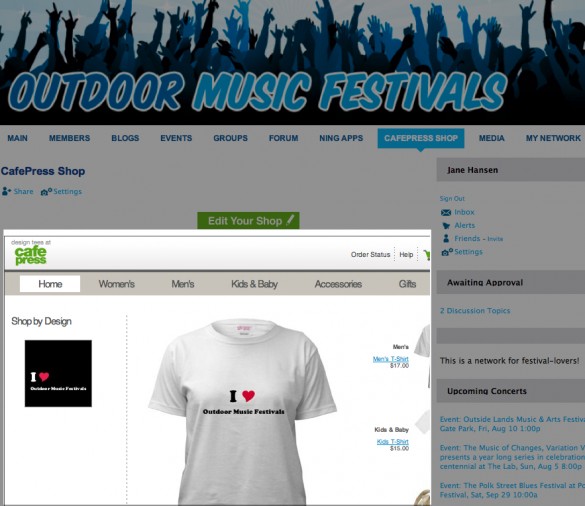 Sometimes an app will look to be cut off on the side. This is due to the layout in use. The most optimal layout to use in order for your Ning Apps to look their best is an "A" layout. If your app looks like the one above with portion of a shopping cart and portions of t-shirts not showing up, you're likely using a "B" layout on your network. To fix this, open up your Design Studio and click on the Layout panel. From there, select any of the "A" layouts, then publish your changes.
My Ning App is not working properly:
If your Ning App is not working properly, and something about it seems to have changed, you'll want to contact the third-party application team who developed this application, as they'll be the best suited for fixing any issues existing in the app. To find contact information for an app, go to https://developer.ning.com/ningapps (or access the Ning Apps directory through your network's Features Layouts page). Click on the app to be taken to a detail page about the app. From here, in the "Details" section, click on the hyperlinked text beneath where it says "Support" to send an email to the app's support team.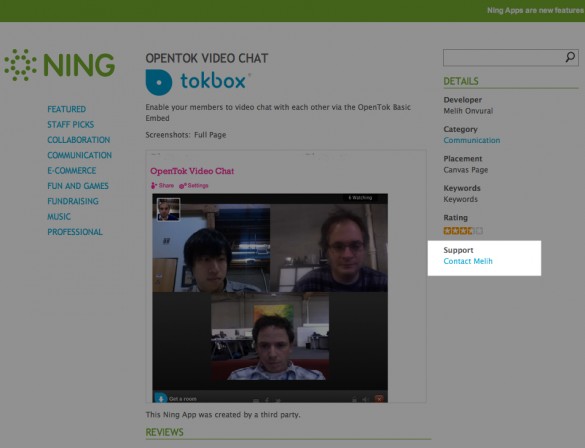 These steps should help sort out most issues you might encounter with a third-party application added to your network from the Ning Apps directory.
Still experiencing an issue with your app?
Try removing the application if it is not working as you would like, and then adding it to your network again.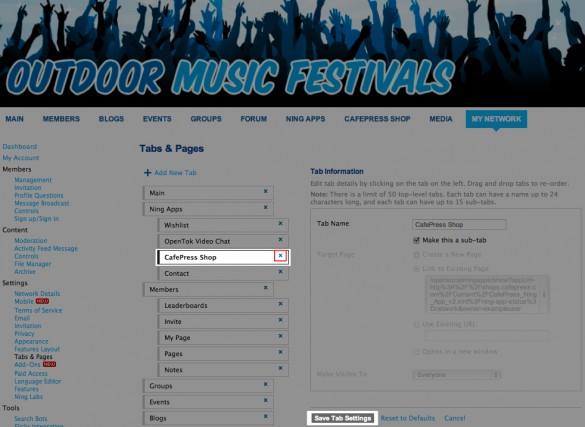 You can remove a Ning App by going to My Network > Settings > Tabs and clicking on the "x" next to the item you wish to remove. Be sure to save your tab settings after removing the app.
Please note that doing this will remove it completely from your network.
Similar Articles: