After you have reviewed the process for pointing your custom domain name to your Ning Network, follow these steps to set up the proper domain mapping with Namecheap.com as your domain registrar.
Important: When purchasing your domain with Namecheap, you'll be asked to designate "Name Server Settings;" click the radio button to "Use Our Free Name Servers." In this example we will be mapping the gocalbears.ning.com Ning Network to the domain gocalbears.net.
1. Sign in to Namecheap.com with your username and password.
2. Go to the My Account tab, and click on "Manage Domains."

3. Under "Domain Name," click on the domain name that you'd like to modify.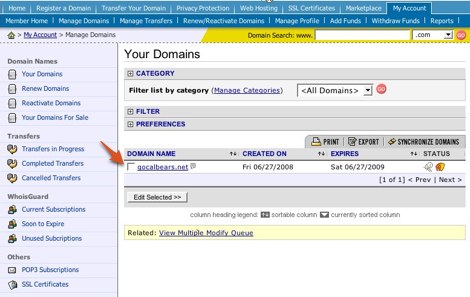 4. On the left side of the screen, locate the Host Management section and select "All Host Records."

5. A new page will open that allows you to point your domain to another address. Using the page input fields, map your new domain to your Ning Network.
6. Under the "Host Name" field, the first entry will be for "@." This entry will have the www version of your domain pre-filled under "IP Address URL," and "URL Redirect" will be selected under "Record Type."
7. Under "Host Name," locate the "www" entry. Under "IP Address URL for this entry, type in your Ning Network's domain (such as examplenetwork.ning.com). Under "Record Type," select "CNAME (Alias)" from the drop-down menu. Here's what the page should look like now: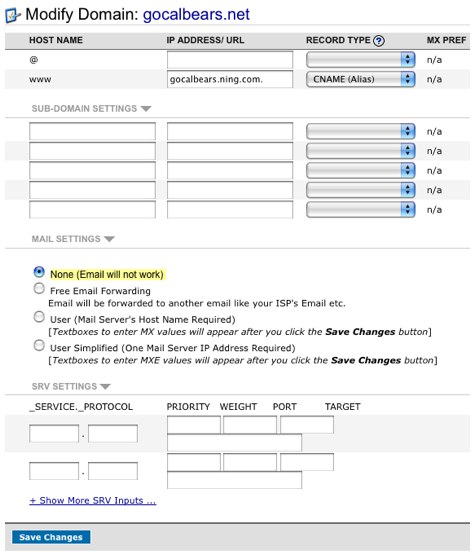 If you want to use yourdomain.com (rather than www.yourdomain.com), enter 208.82.16.68 into the IP Address/URL field for the @ entry. Select "A" from the Record Type drop-down menu.
Don't forget to click "Save Changes" at the bottom of the page!
Finally, head back to your My Network page and click on the "Domain Mapping" link under the Tools section. Here you'll be able to choose the domain (domain.com, for example) you'd like to redirect to. Be sure to select the button next to the domain name you want to have appear as the URL for your network. Click the "Save" button, and you are ready to go!
Please Note: Your changes may take up to 48 hours to take effect. It may not be possible to set your domain in the Domain Mapping page until then.
Similar Articles: