Welcome to your community's new home on Ning 3.0! Since you've already established your community, we're going to skip past some of the basics of community building and help guide you to some resources that will help you, your Administrators, and your members discover all that Ning 3.0 can do.
Design
The Ning 3.0 Design Studio introduces new responsive themes (allowing your network to look great on mobile, desktop, tablet and everything in between), ability to import and export themes, and ability to choose between applying CSS to one theme or to all themes.
Some differences you may notice between the Ning 2.0 Appearance Editor and the Ning 3.0 Design Studio:
Layouts – The Layouts tab has been removed from the Design Studio. Page layouts are now selected on a page by page basis in the Sites & Pages settings.
My Themes – My Themes has been replaced by the History tab, which allows you to revert to previous versions of your Network's design.
Customize – Design elements that were previously housed under Customize are now grouped into either Background, Header, or Page to allow for easier ability to customize each element.
Advanced – Advanced has been renamed "Custom CSS" and Developer Mode has been removed.
Management
The biggest change in the management of your Ning Network is moving from a split management of your Network's features (managing placement via the Features Layout and managing Feature Settings through the Main Page) to a centralized management in the Sites & Pages setting of your Social Site Manager. From your Sites & Pages Manager, you can choose the layout for each page or feature, add content to custom pages, and set the privacy settings for each page.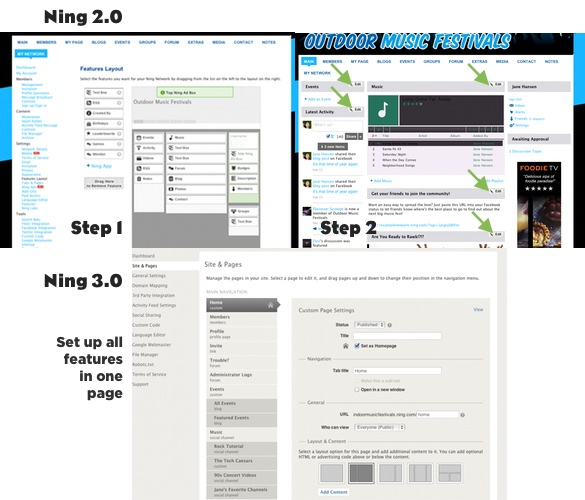 Groups are an exception to this. Each Group will have its own "Group Options" settings (available at the top of any Group page to Group Administrators) and its own Sites & Pages Manager (found under "Group Options").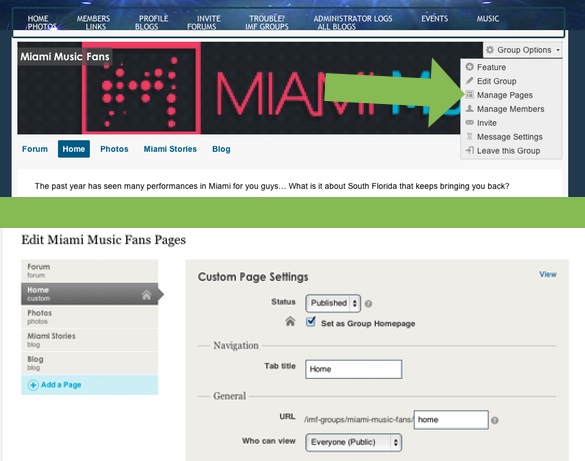 Member Moderation (approving, suspending, promoting to Administrator, etc) and Content Moderation are done through the Member Management and Content Management icons in your green Administrative Toolbar.
Your Migrated Content
The Sites & Pages Manager is where the content from your Ning 2.0 Network will appear, replicating your Ning 2.0 Network's Main Navigation. These pages are already set as Published and included in your Main Navigation, so you'll want to review the privacy settings for each page or feature, rename them if you wish, and move them to the Unlinked section if you want to remove them from Navigation by dragging and dropping. If you wish to unpublish a page or feature, simply change it from "Published" to "Draft." If you wish them to remain published but out of the navigation, you can leave them unlinked.
Once you've reviewed and added your Ning 2.0 Network's content to your navigation, we recommend setting up the Custom Page titled "Home" to include anything you'd like to appear on your network's home page. You can also set up the way your members' profile pages will look.
After you've reviewed the migrated content, make sure to follow up with your Migration Guide to select a new subscription plan and let them know if you have any feedback on the migration process.
Feature Information
Blogs – Read more about Blogs on Ning 3.0.
Chat – The Chat Feature for Ning 3.0 is still in development. Until its release, many Network Creators have been using Skysa Chat or CometChat4Ning.
Events – The Event Feature for Ning 3.0 is still in development. Until its release, you may find success by embedding a third-party solution such as Google Calendar.
Groups – Groups on Ning 3.0 are more powerful than ever, with page by page privacy settings, multiple instances of other features, and automatic adding of new members based on profile questions. Read more about Groups on Ning 3.0.
Languages – Ning 3.0 includes six languages: English, Spanish, Portuguese, German, Italian, and French. If you want your network to appear in a language other than one of these six, you can utilize the Language Editor to create a custom translation. Read more about the Language Editor on Ning 3.0.
Video – Uploading of videos will not be permitted on Ning 3.0. The ability for members to embed Videos in a stand-alone video feature is still in development. Until then, Network Creators and Administrators with appropriate permissions can embed videos from YouTube and other similar services through HTML content boxes. You can see how to add an HTML box here, and see our list of supported iframe embeds here.
Other Helpful Links
Similar Articles:
---