If you'd like to use Active-Domain.com as your registrar, follow these steps once you've purchased the Use Your Own Domain Name premium service. In this example, I will be mapping my Ning social network, foryourcountry.ning.com, to my domain, foryourcountry.net.
1. Once you've purchased this service and your domain, navigate back to http://www.active-domain.com/ and click on the "Manage Domain" link.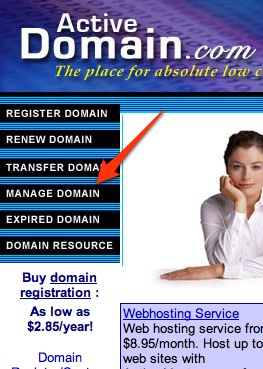 2. Log in with your recently purchased domain name and the password you used to sign up for this domain. (It can take a bit of time for your domain to be recognized by Active-Domain. You may need to wait for a confirmation email before you can complete this step.)

3. You'll then be taken to a page where you can manage the records for your domain. Locate the entry for "www."
4. Under the "Address" field, type your Ning Network's domain name (like foryourcountry.ning.com). Under "Record Type," select "CNAME (Alias)" from the drop-down menu. Here's what this entry should look like now: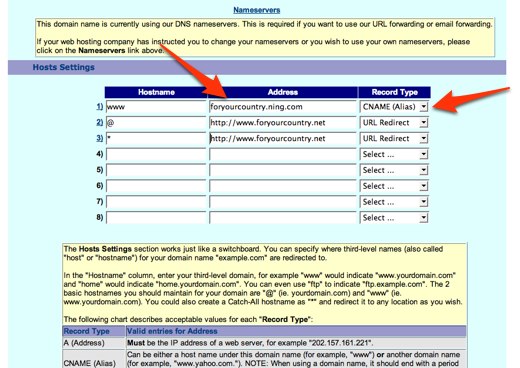 5. To ensure people can access your network without typing in the www, you'll also want to edit the entries for "*" and "@." For both of these, type "http://www.yourdomain.com" into the "Address" field. Under "Record Type," select "URL Redirect."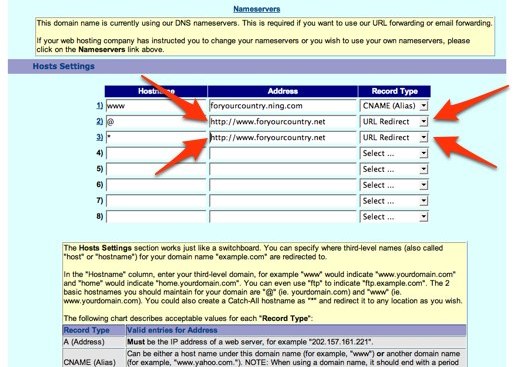 6. Once you are done, click the "Modify" button at the bottom of the page. You should be all set!
Keep in mind that it can take up to 48 hours for these changes to propagate and for you to be able to access your network at your new domain.
After your new domain's DNS settings have had time to propagate, head back to your network's dashboard and click on the "Domain Mapping" link in order to apply and display your custom domain. Here you'll be able to choose the domain (domain.com, for example) you'd like to redirect to. Be sure to select the button next to the domain name you want to have appear as the URL for your network.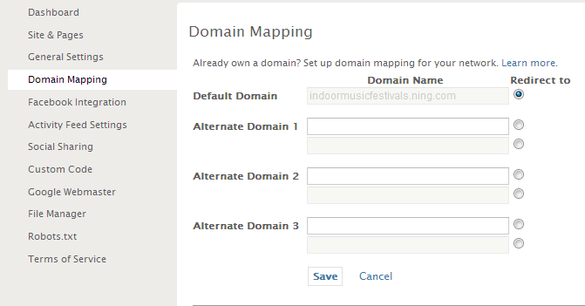 Click the "Save" button, and you are ready to go!
Similar Articles:
---