Your network comes with a variety of tools to customize the appearance. Use one of over 50 built-in themes or customize the theme to create your own appearance. You can even add your own CSS.
Head to the My Network tab and click on the "Appearance" link. You can click the radio button under a theme to apply it to your network. To customize your network's appearance further, go to the "Now, make it unique" section.
Selecting a theme for your network's appearance will override any custom CSSÂ in the Advanced section of the Appearance page.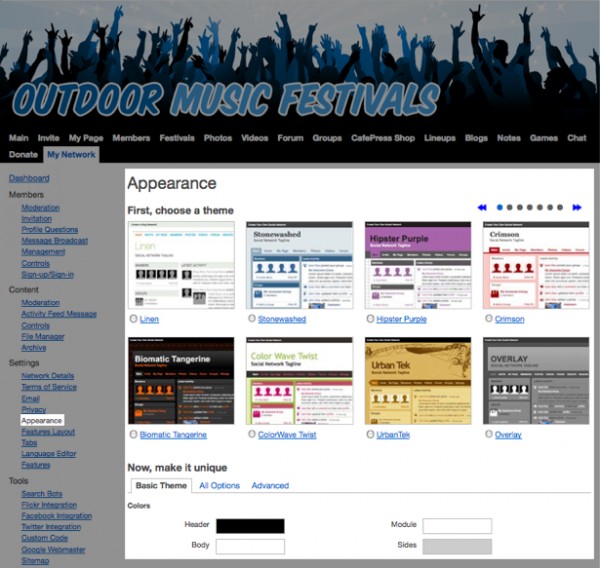 The "Now, make it unique" section offers three options. Go to the Basic Theme tab to adjust colors, header and body font styles, to add a background image to your badge or to custom brand your media players. Go to the All Options tab to add images to your header, side columns or background,or to specify different background colors for more aspects of your network. The Advanced tab is where you can add custom CSS to your network for greater customization.
Only Ning Plus and Ning Pro networks have access to the Advanced tab.
To access CSS for older themes that have since been retired, see: How Do I Get One of the Retired Themes Back?
After you have made your changes to the Appearance page, click on the "Save" button at the bottom in order to have your changes take effect.
You can extend this access to your members by going to the Member Controls page in your Dashboard and checking the box next to "Allow members to customize their profile page" and saving your changes. After that, your member can click the "Manage My Page" button beneath the profile photo on their My Page to bring up a simplified Appearance page just for the member's profile page.
If you would like to learn more about controlling your members' My Page customizations, please see: Control Profile Page Customization.
Similar Articles: