The Paid Access feature is an add-on that you can purchase for a monthly fee. This feature allows you to charge members for access to a page, group or your entire network.
Depending on what your Ning Network is all about, you may want to charge members for access to all or part of your network. Is your network a charity organization? Give members the opportunity to donate to your cause when signing up. Is your network a band fan site? Charge members a fee to join a group on the network with exclusive concert footage or special limited edition band merchandise in return.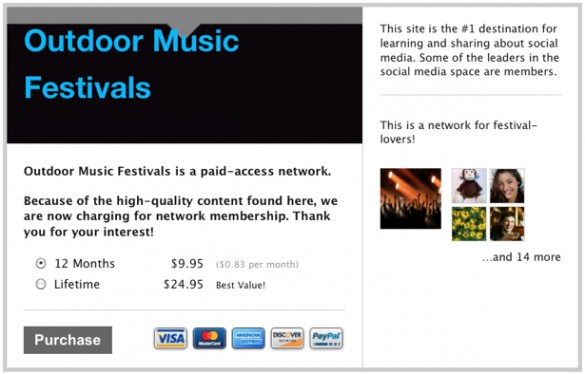 The Paid Access feature can be found in your network's dashboard by clicking on the "Paid Access" link under the Settings section. It works in conjunction with PayPal, so you'll want to make sure you have already created a verified PayPal account, which means that you have either added and confirmed a bank account with PayPal or received approval for a PayPal Plus credit card.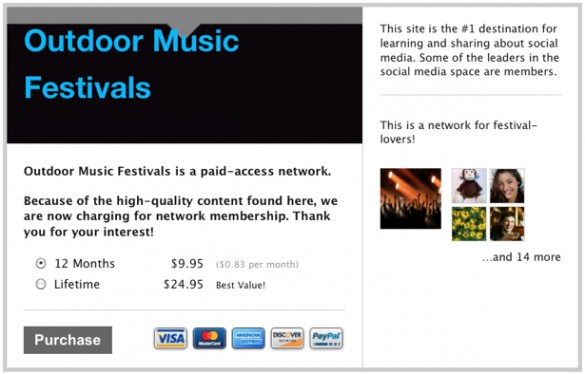 The Paid Access feature is tied to your billing account, so the currency you are set up to pay for your network subscription in is the currency which your members will be charged for any Paid Access membership fees in. These are the currently supported currencies:
USD, GBP, Euro, Australian Dollar, Mexican Peso
Please note that if your billing account is set up in another currency, you will not be able to use this feature.
Once you have activated this add-on, you can choose between charging for access to specific pages or groups on your network, or you can charge for membership to your network as a whole. Require a fixed price, make it donation-optional, or offer people a sliding scale fee.
After the Paid Access add-on has been activated, you will pay Ning a monthly fee of $19.95 and a per-transaction service fee of 2.9% plus $0.30 (international fees vary). This is an additional fee that is separate from your network subscription charges.
Paid Access works by putting up paywalls around content you have created. A paywall is a virtual door that you create around your network, a page or a group, and allows members access to the designated content for a fee. Interested in charging members but want to make sure they're willing to pay first? Apply a paywall to a group or page on your network, and see how your members respond to this. If the feedback is positive, this may be the right feature for your network.
If your Ning Network is an active community where members visit and participate regularly, you can make it a profitable space for both you and your members by following these steps:
Give members something exclusive (a new video, webinar or access to experts)
Communicate early (let existing members know ahead of time and explain why it's worth the price)
Pick a fair price (think about this from your members' perspective or take a survey)
Keep it simple
By following these steps, you should ensure a successful paid-access community.
As the creator and collector of this add-on feature, please note that you are solely responsible for managing and administering Paid Access on your network. This means you will be handling any and all refunds, billing questions and other similar items, as they relate to Paid Access on your network. Any payment disputes will be resolved through PayPal. And as always, your Ning Network must comply with our Terms of Service.
Similar Articles: