The Latest Activity feature is a stream of up-to-the-minute activity across a Ning Network. It shows off what's happening on your Ning Network, from new photos that have been uploaded to new friendships that have been confirmed.
Members can update their status on the Main Page, comment on content, "Like" content and even view content, all from within the Latest Activity feed. This feature is a great way to highlight what's new and motivate members to participate and interact with your network quickly and easily.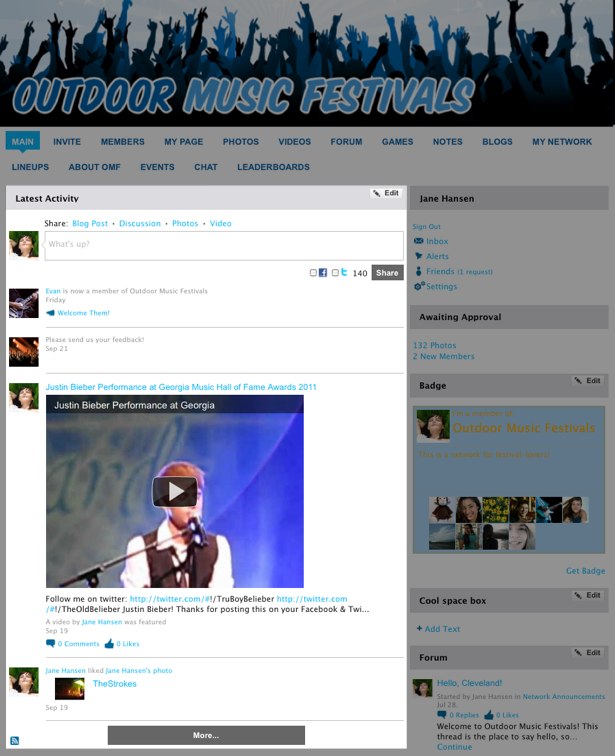 To post a Status Update, click on the status box and type your message there. If your network allows you to share with Twitter or Facebook, you can check the box next to these icons and share your update with everyone. Please note that notifications are not generated for Status Updates posted on the Main Page. To change the default text that appears in the Status Update box, head over to the Language Editor in your Dashboard to search for and edit text.
Please note that if you have set your profile page to be visible only to members or friends, you will still be able to update your status on the Main Page, but your status will only display on your My Page. This may look like your status update has disappeared, but going to your My Page will verify that it hasn't. To change your personal privacy settings for Latest Activity, read on here.
To comment on an item in the Latest Activity feed, click on the comment icon to open up a text box.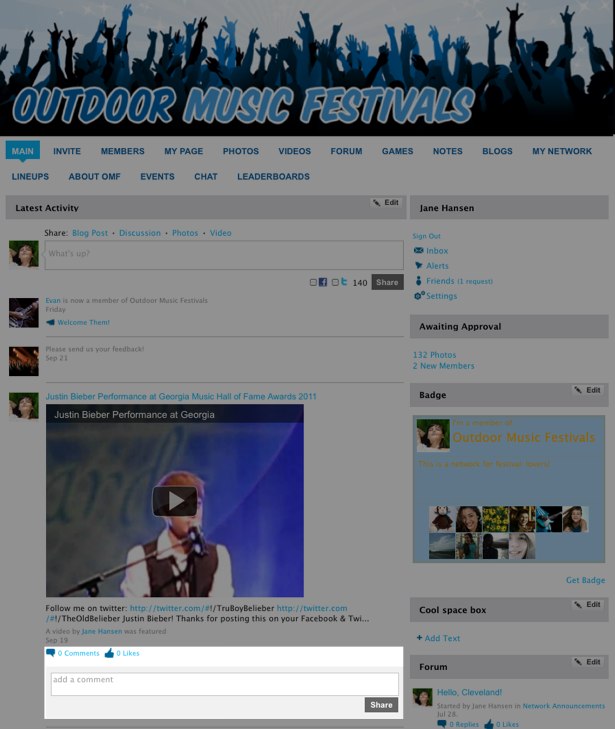 For Photos and Videos, clicking on this icon will open up a text box within the Activity feed. Enter your comment, and click on the "Share" button to save your comment. For Groups, Discussions, Events and Blog Posts, clicking on the comment icon will direct you to the content detail page first, so that you can read more before adding your comment. For multiple media items uploaded at one time from one member, clicking on the item will direct you to the detail page, where you can then add your comment.
To view comments on an item in the Latest Activity feed, click on the "# Comments" link beneath the item to see the comments open up inline. Comments on items and profiles (based on the settings in your Activity Feed Display Preferences) will display the text of these comments within the Latest Activity feed directly.
If the network or Facebook "Like" button options are enabled on your network, you can also "Like" an item in the Latest Activity feed, as well as view how many people like an item.
The Latest Activity feature appears as a stream on the Main Page of your Ning Network, and also on every member's My Page.  As a Network Creator, you can delete any activity from the Latest Activity stream on the Main Page. Members can also choose which items appear in their My Page Latest Activity feeds and delete individual entries.
As the Network Creator, you can choose where to display the Latest Activity feature on the Main Page of your Ning Network, how many events are displayed, which categories of events appear on your Ning Network's Latest Activity stream and even add facts or announcements about your Ning Network to the Latest Activity stream.
Depending on what you've decided to display in the Main Page Latest Activity feed, new activity on the network will update any time you return to the page. If you want to see new content without leaving the page, just hit your browser's "Refresh" button.
To view more Latest Activity on your Ning Network, click the "More" button that appears at the end of the feed. This will display additional entries in the feed. The number of additional items shown depends on how many items you display in your feed by default. You can view up to 200 Latest Activity entries.
Similar Articles: