Creating your Ning Network and inviting members is easy, but there's more to having a great social experience. You should also keep members of your Ning Network coming back.
One of the best things you can do to drive participation and activity on your Ning Network is to recognize members and reward them. You can feature specific blog posts, photos and videos on the main page of your Ning Network. You can also feature members that stand out. People love getting recognition, and featuring them or their content is an excellent way to offer it in your Ning Network.
If recognition alone is not enough, never underestimate the power of contests and giveaways. The folks at My Kicks on Fire, for example, are running a contest to win a free pair of Nike Aire Yeezy sneakers. To enter, members just need to help get the word out about the Ning Network on Twitter. Other ideas for contests include polling members for their Favorite Member or voting on the Most Popular Video or Photo, where you can take advantage of the ability to rate photos and videos to give members the power to choose the winner.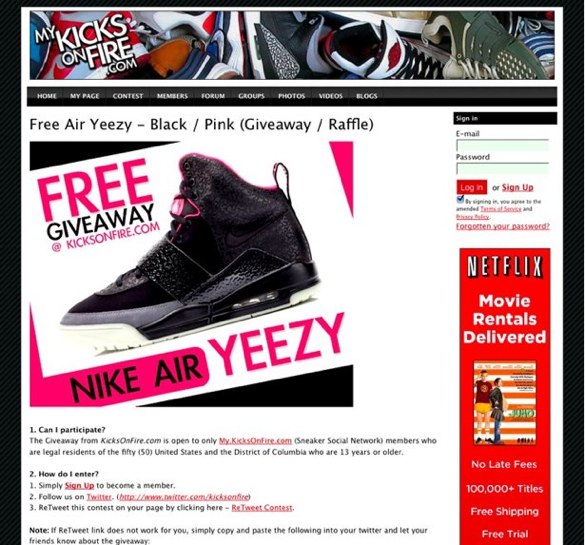 When it comes to the prizes, you don't need to spend any money to make your contest work. Of course giving away tickets to a Broadway show or a plane trip to members will certainly attract the attention of many, but you'll find that any prize, no matter how small, will make a contest fun and rewarding for members. More important than the dollar value of your prizes is choosing something that is relevant to the goals of your Ning Network. Still, if you want to give out cool prizes and you're on a tight budget, here are a few ideas to get you started:
Contact sponsors: You may be able to find sponsors that will fund one or more of your giveaways. It will make them look good and you may be able to get bigger and better prizes.
Talk to members: You could find sponsors for prizes among members of your own Ning Network. That's another reason why it's important for you as a Network Creator to introduce yourself to new members when they join.
Keep it simple: a $25 gift certificate to a relevant store will go a long way too! For example, if you run a Ning Network for animal lovers, the gift certificate could be to a pet supply store.
Similar Articles: