To allow your members to use their Facebook credentials to access your Ning Network, head to the Sign up/Sign in page under the Members section of your My Network tab. Check the boxes next to "Facebook" to enable sign up or sign in with this service. This will bring up a lightbox . You'll be prompted to create a new sign up/sign in Facebook App. Click on the "Go to Facebook" link to be taken to Facebook in a new tab.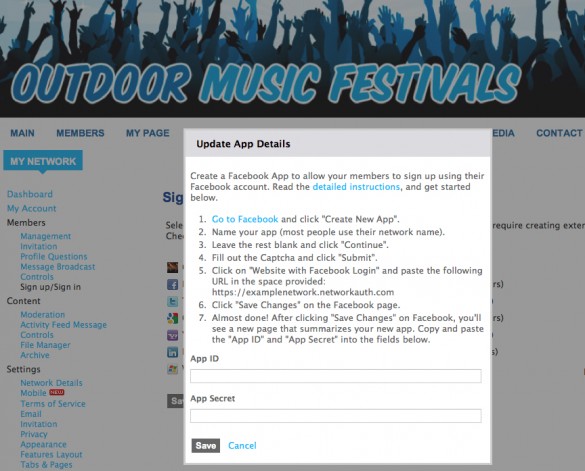 Sign in to Facebook. Once in, click on the "Create New App"  button. (To get to this page directly, you can also paste this URL into the address bar of your browser: https://developers.facebook.com/apps.)

On the next screen, select "Advanced Setup" at the bottom of the screen.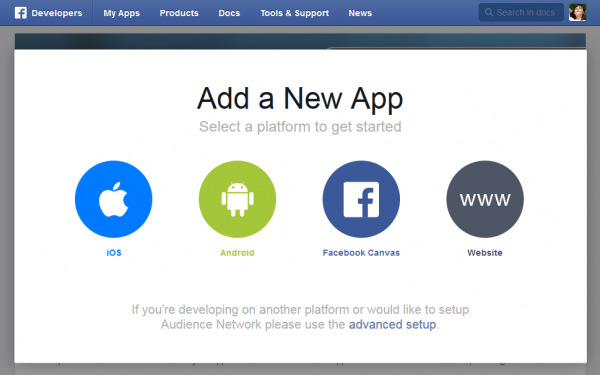 Enter a Display Name of your choosing.  Leave the Namespace blank. Then choose a category for your application from the drop-down menu, and click "Create App."
Note that your Display Name can be up to 32 characters long, but no more.
If your network name is longer than this, your Facebook Sign In feature may not work properly. You can change your network name from the Network Details page in your dashboard.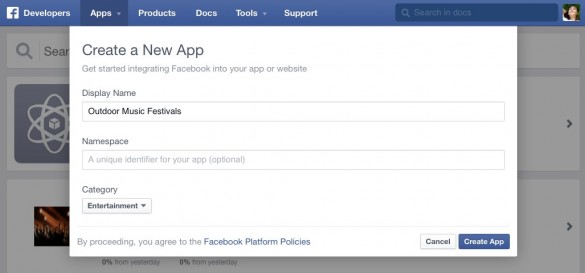 Enter the text in the CAPTCHA that appears afterwards, and click on the "Submit" button to create your app.
Now that your app is created, click on the "Status & Review" link in the left column and you will see that the "Do you want to make this app and all its live features available to the general public?" setting is defaulted to "No".  Click on this to change the answer to "Yes," then click to confirm this change on the subsequent pop-up.
Next, head over to the "Settings"page. Under your contact email, you will see an option to "+Add Platform." Click this link and select the "Website" option.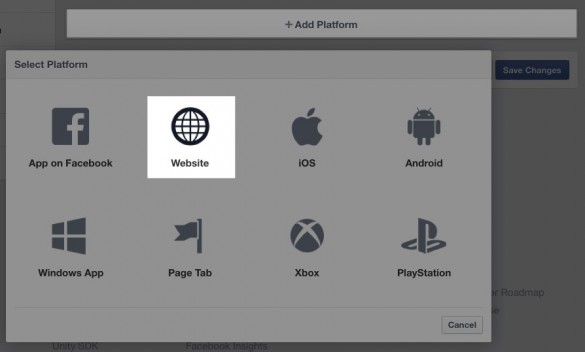 You'll see a Site URL field open up. Enter a URL in the format below, and replace the "examplenetwork" part with your network's subdomain (the "examplenetwork" part of "examplenetwork.ning.com"):
https://examplenetwork.networkauth.com/
Be sure that your URL starts with https, has the subdomain you chose when you first created the network and includes networkauth.com (not ning.com) in the URL.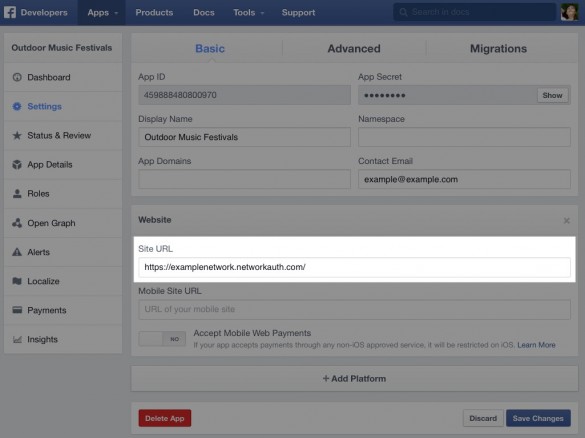 After that, click "Save Changes".  You'll then need to click "Show" and enter your password in order to display your newly-created app's App Secret.

Copy the "App ID" and "App Secret."
Go back to your network's Facebook Sign up/Sign in page and paste in the "App ID" and "App Secret" provided on your Facebook App's page.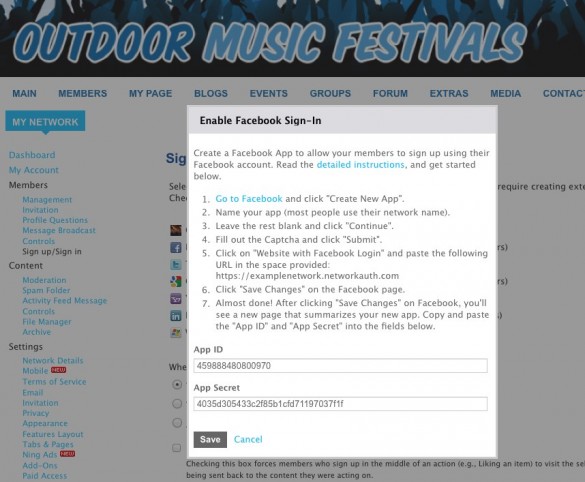 Click "Save" and you're done!
Similar Articles: